Clubname Naming Solution, .club on Ethereum
New name collision 😱😰🫣😂
https://clubname.domains
Next years will be fun. We'll see more and more of these. HNS still wins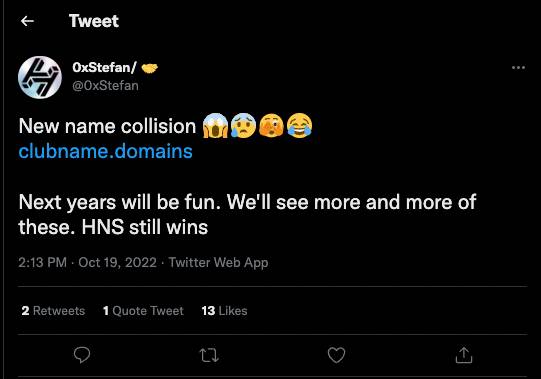 Differences of Club Name Service (CNS?) from ENS
Mike' take: Seem like an unsustainable model - with lifetime ownership and no creator fees.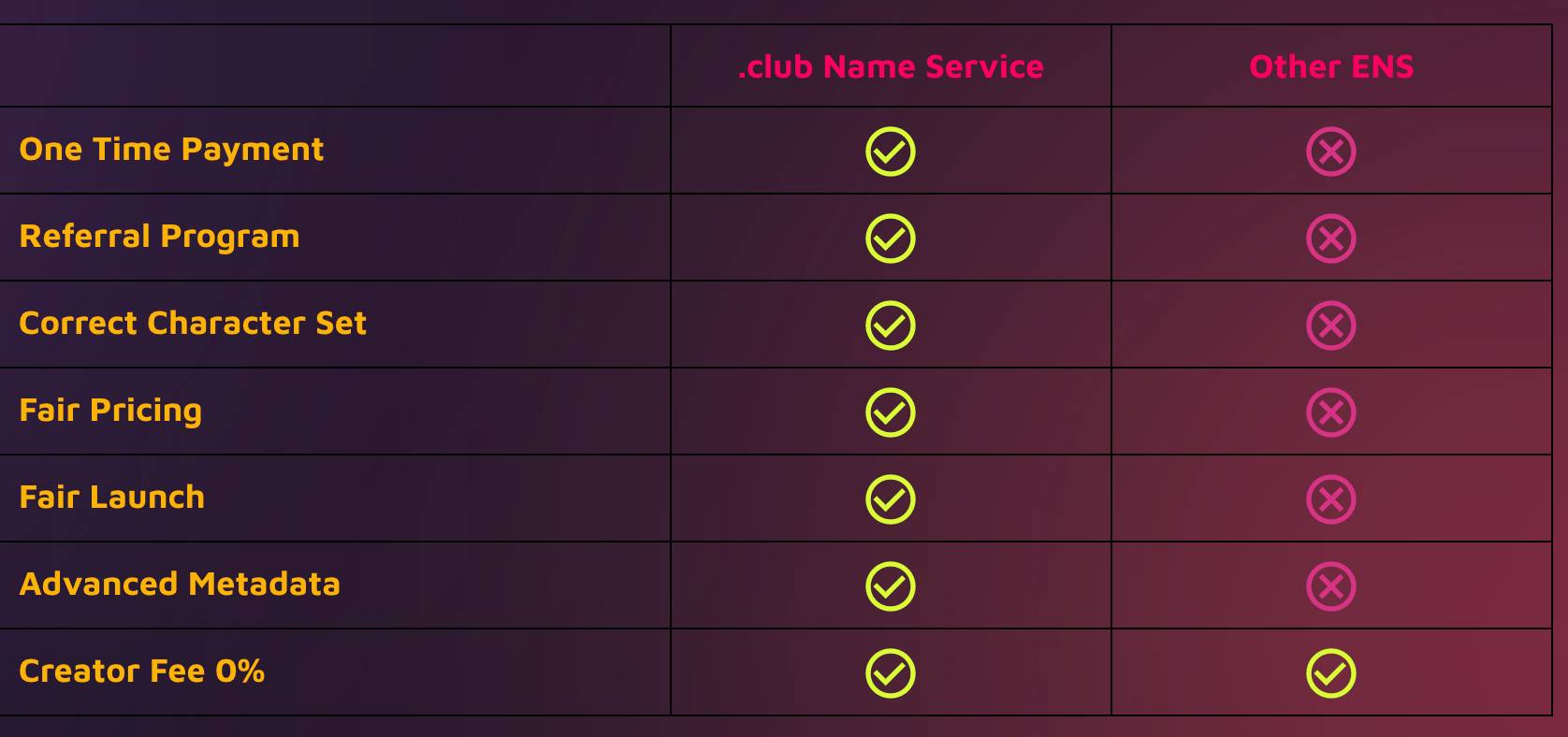 FAQ of .club Name Service
What is the minimum-maximum character length for .club name service?
The minimum character length is 1 , and the maximum character length is 20 characters. This may be updated in the future.
What are the available character set ? Can emoji be used ?
There are no characters in our character set that could cause misunderstandings. Therefore, only latin characters, numbers, the "-" symbol and the "_" symbol can be used. Characters other than these characters cannot be used. This way we are protected from characters that are the same but are resolved differently.
Character Set : 0123456789-_abcdefghijklmnopqrstuvwxyz
What is the registration price? Will the price change ?
The registration price is 0.008 Ethereum.

Is the .club name service decentralized?
The .club project is decentralized. It only needs ethereum blockchain to work and is on a smrrt contract
Why should I use an .club address?
The .club address was launched in a completely fair way to gain the support of the entire Ethereum community. Everyone is the same when it comes to equality of price and opportunity.
What are the applications that integrate with the .club name service ?
The project has not been started yet. Integrations with many web3 and web2 platforms will be made and announced after launch.
How does the referral program work?
Visitors you send to https://ethername.domains/?r=YOUR_ETH_ADDRESS
+User gets +25 Percent discount.
+You earn 25 percent for every registration that users make with discounted prices.
+Payments are all paid by our smart contract when the user pays.
For example, if a user uses the link you gave him to register; they pay 0.006 ETH instead of 0.008 ETH. If you have an .club address, you will receive 0.002 ETH instantly. That's how easy and safe it is!
Why is .club a more developable name service than others?
Our goal in the .club project is not just to provide a name service to the community. Our main goal is to allow people to build communities through .club projects.
Will popular applications like Opensea, Metamask, Etherscan start to resolve .club addresses in the future?
We believe this will happen. The .club project, like other Ethereum name services, is built on a smart contract. Resolving a .club address is as easy as retrieving data from a contract. We know many integrations will be achieved quickly as our community expands.
Are there incentives for developers?
We are ready to share a large part of our revenues with quality services that will provide integration with us. Integrating with .club is pretty easy.
Have a question?
Contact us. You can send your question/suggestion or collaboration proposal to info@clubname.domains