Introducing The SkyInclude Community
TLDR - Get On the Inside of Discord ASAP
Download this presentation at:
https://static.skyinclude.com/skyinclude-community.pdf
As HandyCon 3 approaches this week, we think it is time we upgrade SkyInclude from a pure Youtube and blog and service provider to a "marketing channel community".
Many of you only know "Mike" - me the dude on this video - but there is a great team. Anne/ more and more of you are getting to know - and she has been a true blessing for us here in Skyinclude and our parent company Shadstone - as well as the Handshake community at large.
But there is more than Anne and I as well - there is a great team behind the scenes helping even get this video prepared and posted.
Seeing the Opportunity SkyInclude Can Do To Help Handshake More
We want to use our skills more - we are a marketing agency and ecommerce seller based in Asia, and there is a lot more we can do.
We'll be sharing more in our new SkyInclude discord and over the coming weeks - but one clear need is:
Paid advertising for Handshake.
As we have done Handycon over the years - it is a great reason to promote this amazing decentralized community - and to do some paid ads.
But we want to keep those ads going on an evergreen, ongoing basis.
A Community Fund For Paid Marketing Campaigns
We love what the developer community at Handshake has done. And talking to many of them - they "hate marketing". It does have that "evil" feeling even I get it. But there is effective marketing and for Handshake to grow- systematic marketing must be done.
Erwin Green is a true diamond in the community and has been chipping in with his lapel pins/ and also this Handshake microphone cover and soon background. He also wants to contribute to Facebook ads.
Many others also want to do ads. We want to do ads.
So we will. We have, at our marketing agency, paid ad specialists. We can utilize this and pool resources together.
This is just one small initiative SkyInclude wants to do - on an ongoing and systematic way.
Join Our new Discord (and crew3) to engage and connect
How to get involved?
We are building out ANOTHER discord for Handshake (we know a lot already) - that is more marketing focused.
The SkyInclude Discord will be a place for you to:
Learn about these marketing initiatives, and we plan to be transparent (need to discuss who can see what) to those who support and contribute.
Learn about upcoming events SkyInclude organizes - HandyCon, Flamingo Handshake, Handshake.mastermind Twitter spaces, and more
New marketing campaigns (a lot is coming!)
Connect with others in the community and SkyInclude team.
Build a "Mercenary" Community
Those OG in the community remember our first Handshake bulletin board, Handshake.mercenary (still online)!
We want to keep that OG feel and continue the mercenary feel - and we do feel many in the Handshake community are mercenaries. We are all from different backgrounds and places - acting on our own, independently (truly decentralized)
WHICH MAKES IT HARD.
But why fight it - why not embrace it - and call each of us that "soldier of fortune" style of a mercenary.
We will have level-ups for mercenaries in the community, and use various benefits for active community members in this theme of "mercenary".
What is SkyInclude? Great Question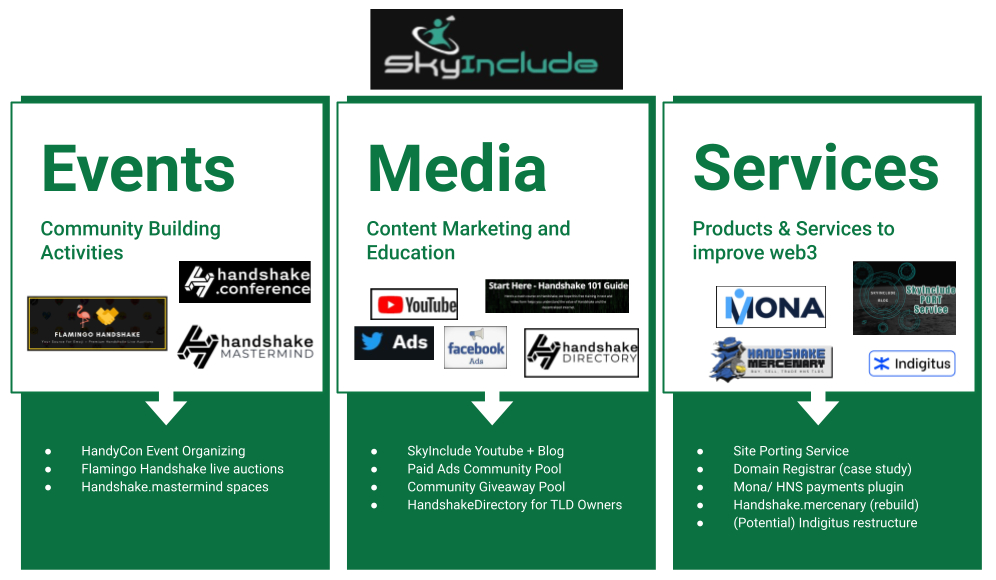 (for those who want to download the infographic - https://static.skyinclude.com/skyinclude-community.png )
As text:
Events:
HandyCon
Flamingo Handshake
Handshake.mastermind Twitter Spaces
Media + Marketing Services:
Content Marketing via Skyinclude Blog + Youtube
Paid marketing (FB, etc) via community pool
Community giveaway platform (promote your TLD or project)
Products
Mona/ HNS payments plugin for wordpress
Handshake.mercenary (rebuild in discussion)
(Potential) Indigitus - restructuring
Roadmap, Wen? (Coming Soon…)
There is just a ton to come. We will be kicking off this new initiative by starting the Discord and crew3 - but it is more than just a community - we have some amazing initiatives planned.
And we will reward early supporters once we further prepare and define the roadmap.
See you on the inside!
JOIN OUR DISCORD NOW