​​Freename TLD Web3 Solution vs Handshake TLD Protocol
As we approach the end of 2022, I have this feeling I'll be making a TON of videos about the bursting of the seams of new web3 naming systems. Word on Twitter is many more are coming.
At SkyInclude, we are trying our best to keep you informed of all of them - and TRY to stay unbiased (while still a SuperFan of Handshake).
Today, we have with us Freename.io, a new naming system that seems to be based out of Switzerland.
We first learned about this from the HNS Twitter community, with outbursts and outrage that their HNS TLD was now being sold to the first buyer on the website Freename.io
One of the louder people is the .token HNS director
@NamecheapCEO @NamebaseHQ @Namecheap their website - https://freename.io/- is listing .TOKEN with a TM mark, see above screengrab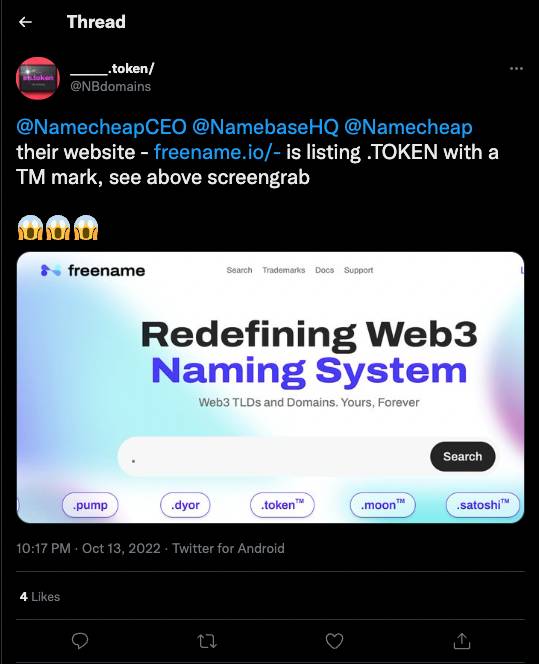 And also the .universe HNS TLD owner, even bought .universe on Freename (to protect his name).
Some info for all the #Handshake community about the new rival service.. We regged our .Universe for approx $1100 on the new freename. Not very free at that price but yano, had to be done.. Heres some screenshots of once you get one.. Unfortunately.. is what it is, we needed it.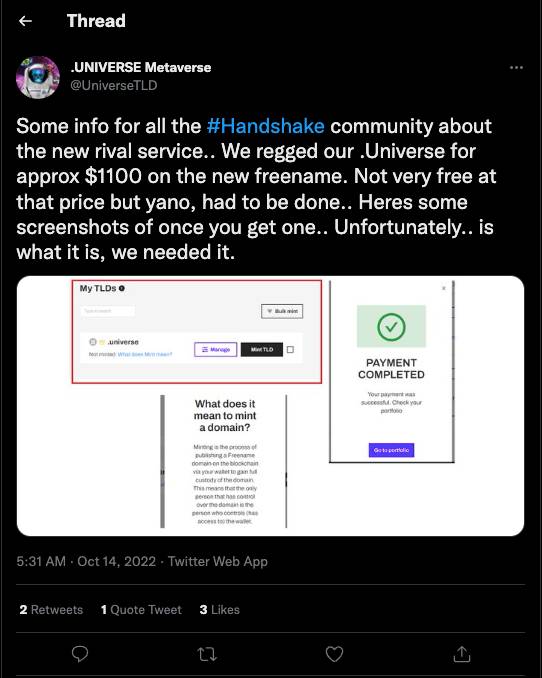 But he is reminding us - domain names are not the same as text strings as NFTs
I mean HNS is it's own blockchain.. So thats much better.. These look like word NFTs on a just a smart contract as someone said on here..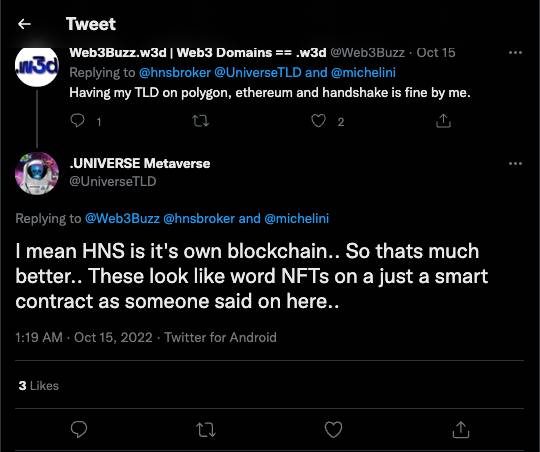 I mean HNS is it's own blockchain.. So thats much better.. These look like word NFTs on a just a smart contract as someone said on here..
How is this web3 if I need to create an email account. This stops me in my tracks to be honest.
And pay with a credit card?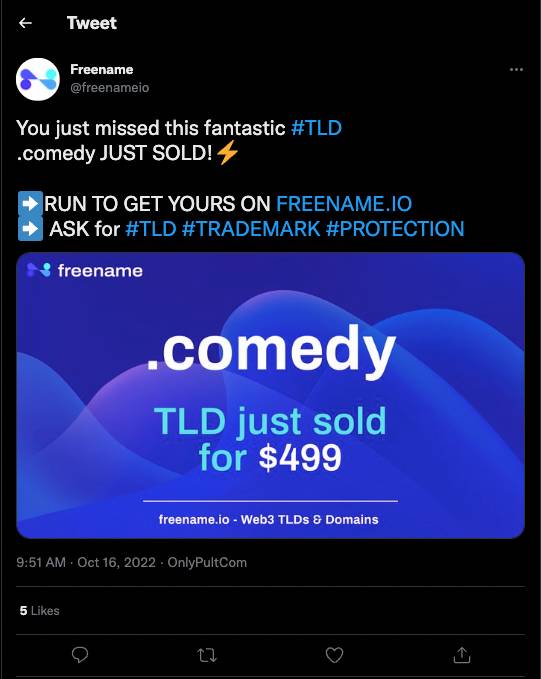 Is Minting the same as Buying?
Purchasing a TLD (or domain) on Freename and minting it on the blockchain are two distinct steps. When you purchase a TLD (or domain), the transaction is recorded in Freename's database and not on the blockchain. Minting a TLD (or domain) on the blockchain requires a second step: log into the user's personal area, select the TLD (or domain) and press "mint TLD" (or domain): done! Don't worry, once you have purchased a Freename domain, no one can take it away from you!
Yes. The domain is stored in your cryptocurrency wallet and can be transferred by you after you have minted it. Access your portfolio, select the TLD or Domain you wish to transfer and type the recipient's address. Afterward you must paste the OTP code you received by email to confirm the transaction. Keep in mind that currently it is not possible to import the domain that has been transferred, but it will be possible soon!
Which Chains are Supported?
Freename has a multi-chain approach. You can choose on which Blockchain to mint your Web3 Domains and TLDs ranging Among: Polygon, Cronos, and Binance. More Blockchains will follow!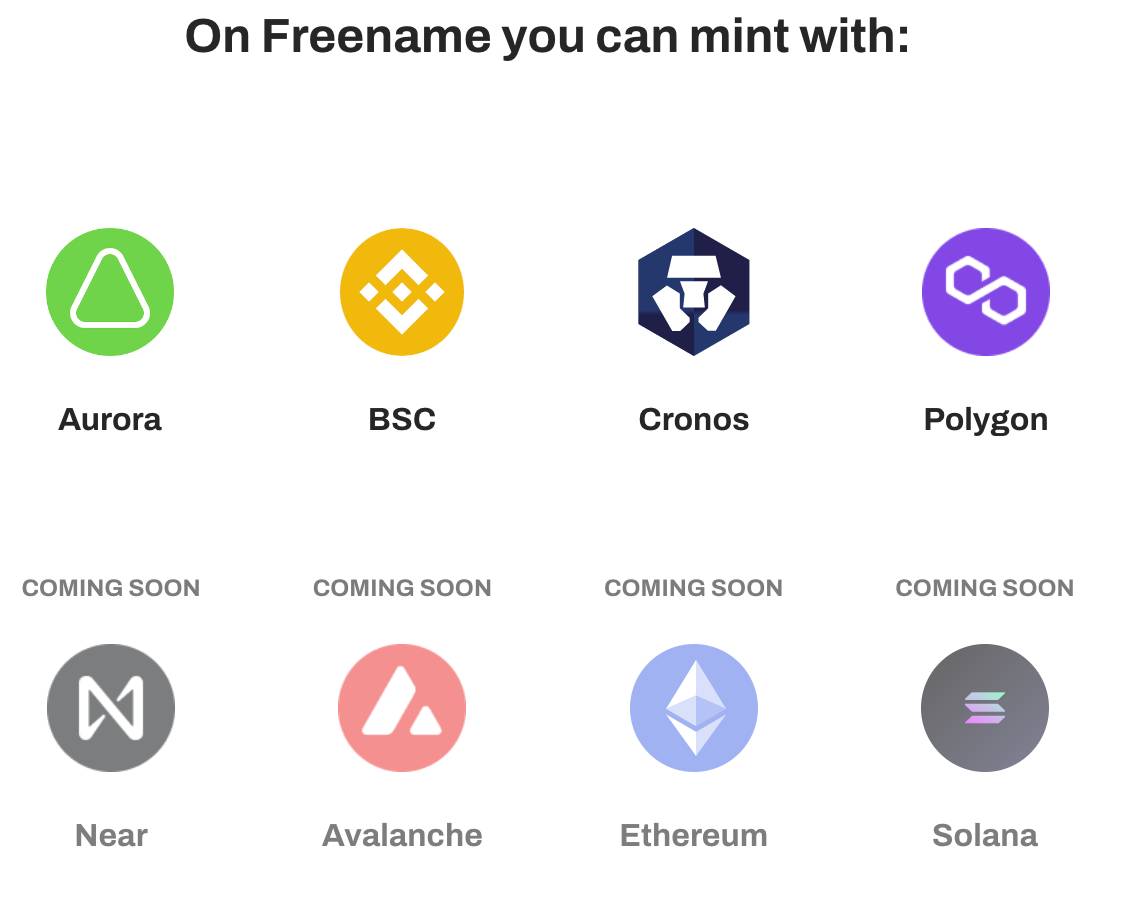 No! Once you've bought a Freename Domain or TLD it's yours forever, no renewal fees ever!
Mike's response - how does the system sustain itself. Similar to royalties on NFT, or renewal fees on domains - how does the ecosystem support itself?
Earn 50% of the SLD sales
So I take it Freename takes the other half? In the smart contract?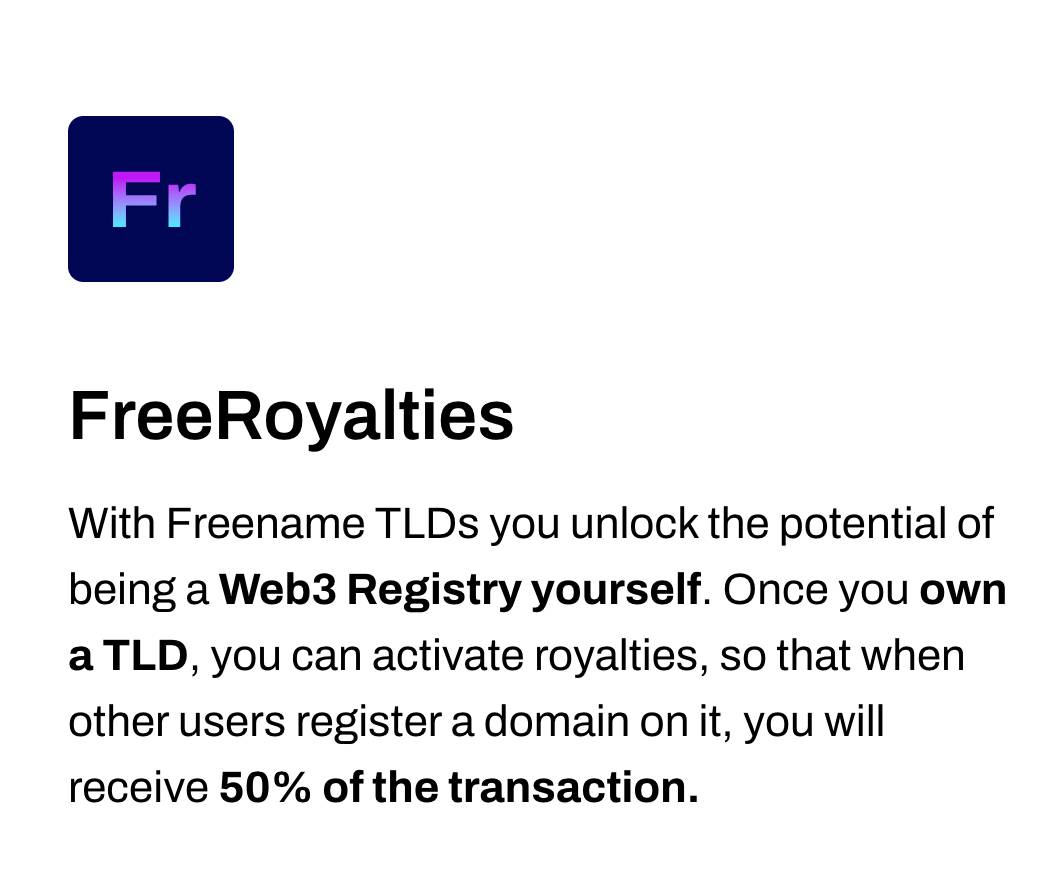 Optional - File a Trademark with their service (In Switzerland)
Why trademark your TLDs?
Registering a trademark on your Freename Web3 TLD will allow you to juridically protect your web3 TLD as well your logo worldwide.
From the moment you deposit a trademark request, your web3 TLD will be protected worldwide for 6 months awaiting for the Swiss Federal Institute of Intellectual Property (IGE.ch) to confirm and register the availability of your TLD.
Once the IGE accepts and ultimately registered your trademark, you will be free to choose in which countries to protect your Web3 TLD.
You can apply for a trademark by contacting the Freename trademark department which will assist you promptly.
You will be required to submit a KYC, the list of TLDs you want to trademark and service payment proof.
Usually it takes as fast as 1 week to have your trademark submitted to the Swiss Federal Institute of Intellectual Property review and protected worldwide for 6 months. In Switzerland trademark service starts at $1,500 per single trademark.
Issues - No Github of Source Code (only the resolver)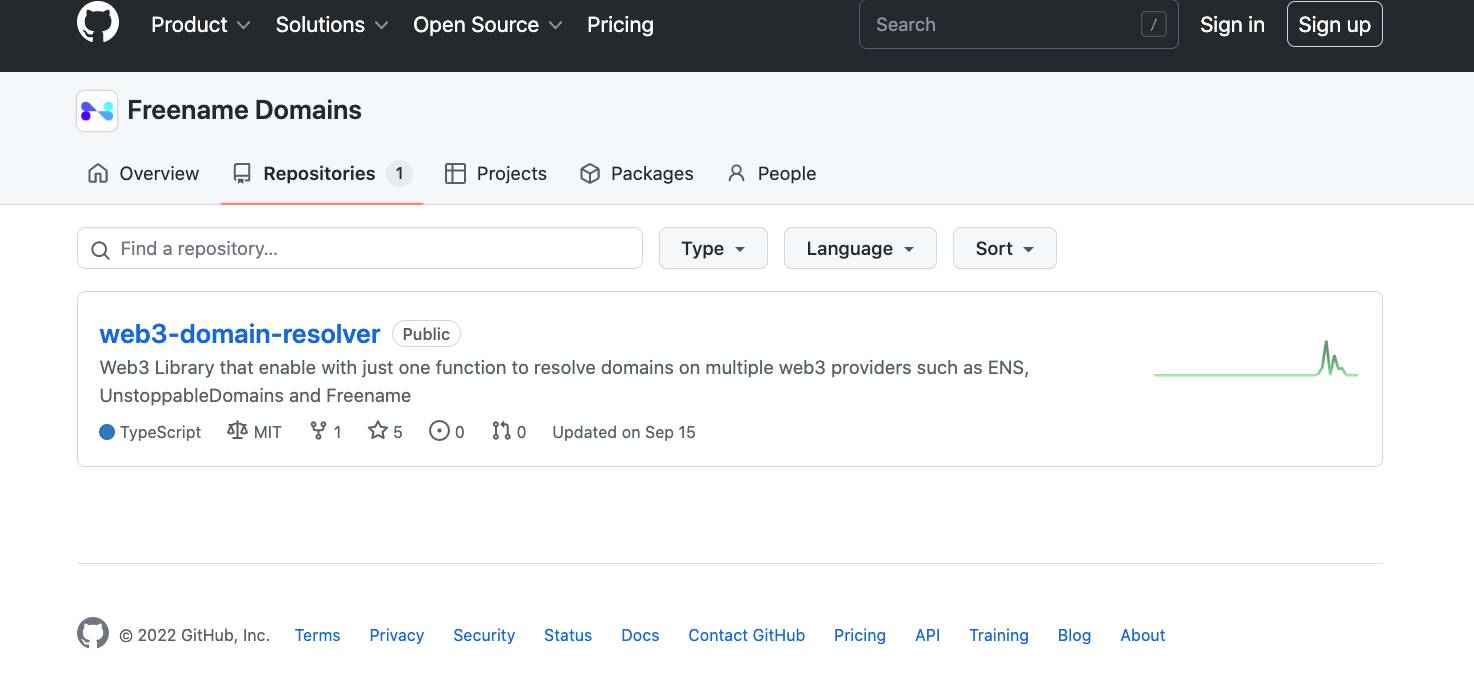 So what is the code this is running on?
Can Cancel Your Account For Any Reason (and lose future royalties)
Reading their terms on https://freename.io/terms-and-conditions/ if they want too, for any reason, they can delete your account.
Now you may say "but I minted my TLD on the blockchain". But to get the 50% payout on the domain sales, you'd need to access your account here. So what happens then - who owns those future royalties?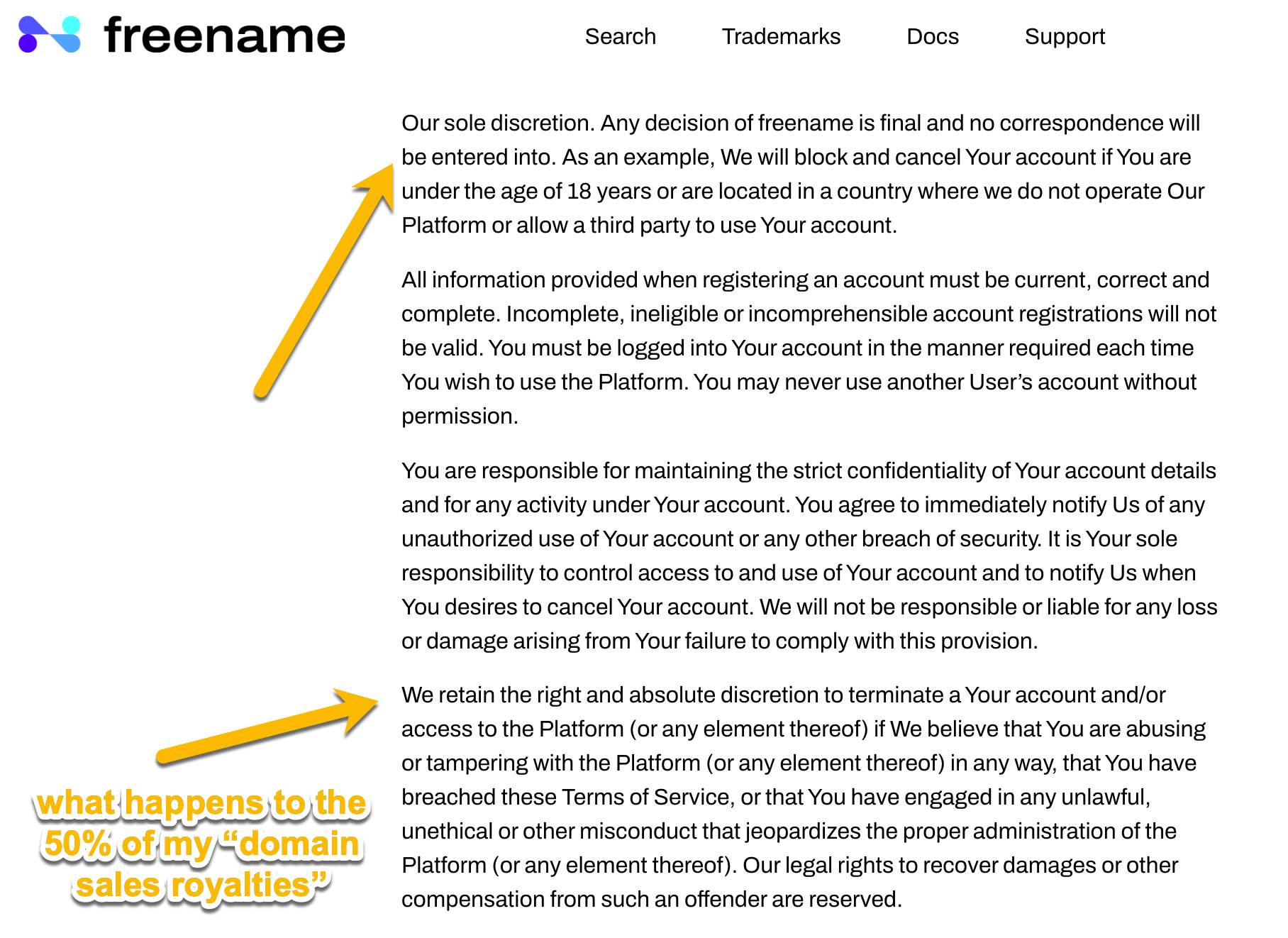 Input from the Handshake HNS Chat forum
Someone asking about freename there, and likes that it is easy - and feels Handshake is too hard to get sales?
everybody want to sell SLDs. so their idea is not bad. one click. 50% of every sale. no searching for a registrar, no thinking about prices, no bargain. maybe they survive. specially UD still has no SLDs. I tried gateway, encirca, porkbun, esf-tools, even forever and badass from impervious. as long I sell nothing everything is a rugpull
My reply to that:
Yes, but the terms and conditions state they can delete your account for any reason they want at any time. What would happen to your 50% royalties then?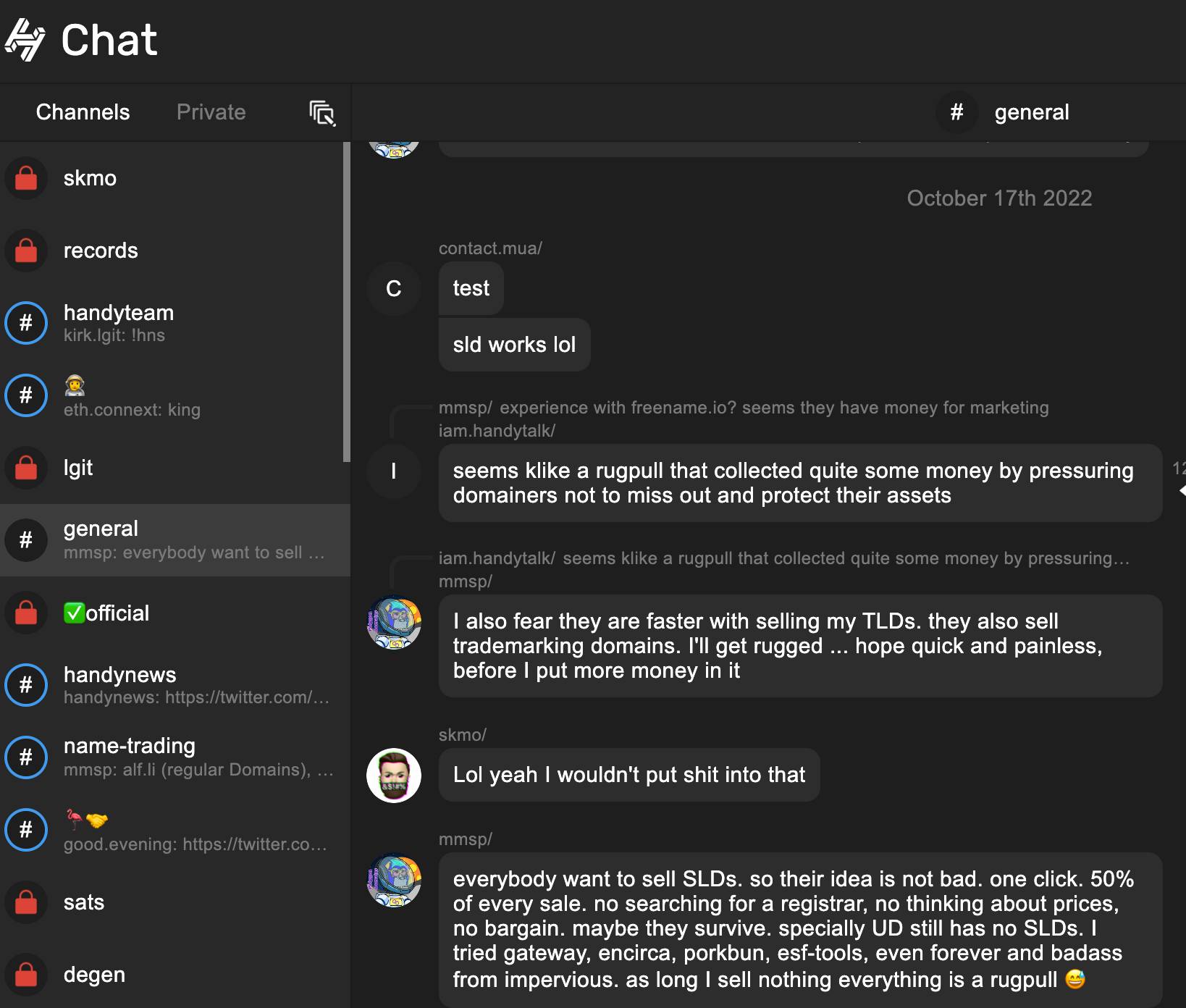 Question: Isn't Freename Similar to Namebase?
Seeing in discussions some saying centralized hostage of names in Freename is similar to Namebase/Namecheap.
There are similarities for sure - BUT - Namebase is not the only option on the Handshake protocol. The flexibility, and options, are what make it different.
Partnerships with Cloudname (same company?)
📢 THE DREAM GIVEAWAY 📢
Cloudname X
@freenameio
⚡️ To celebrate the partnership between Cloudname and #Freename, you have the chance to win this amazing $2,500 (+$10 welcome gift card for all) 🙌🏼
#Giveaway #contest #win #prizes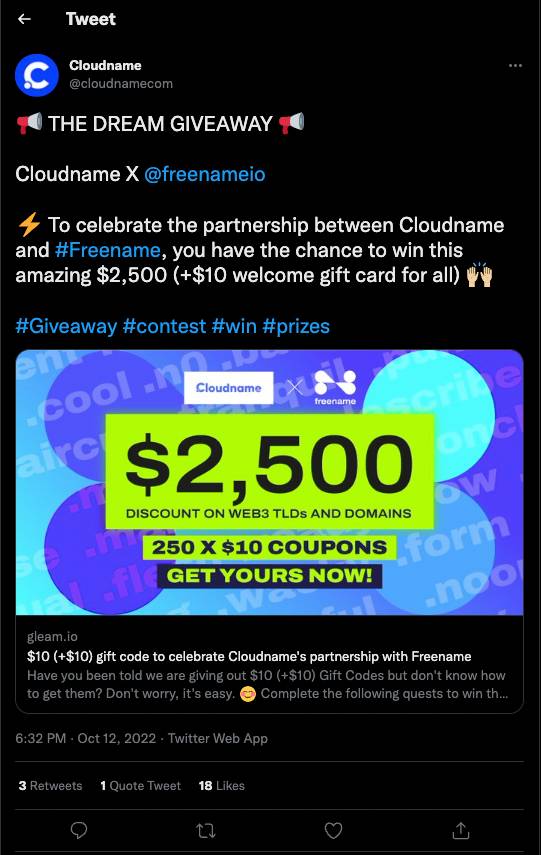 Feedback from the Community
More good insights on twitter after posting the video:
Freename looks like a farce.Founders have zero technical background and their day job is working for a VCshop seeking to exit within 18months. Also appears the investment is down 12.4% meaning the money tap will end soon. End of the day true decentralised projects win. @michelini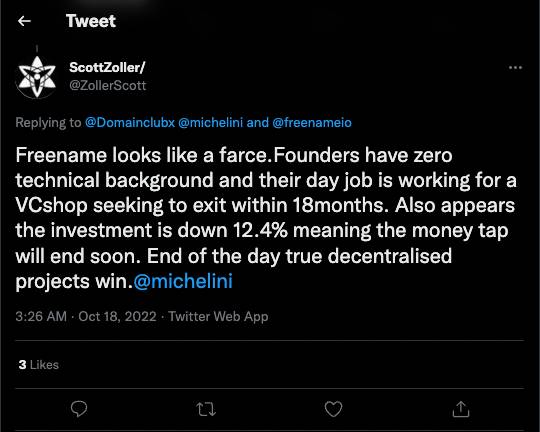 So Freename may be under big pressure from it's investors already. We are in a bear market, so it isn't easy.
And
they already raised the prices today. some domains 15 times more exensive than in the morning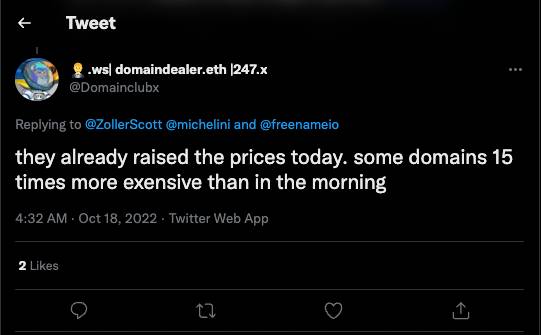 Prices increasing? No notice? No transparency? How is the web3 ethos?
Maybe pressure from VC investors to do so?
Richard Patey Discusses His Freename Experience
In his October 2022 ALTS by Flippa newsletter, Richard discusses his experience reaching out to Freename about .lazy and the process
True, but following on from that analogy unless we promote the benefits we will keep getting forks like bitcoin cash with a marketing engine f'ing with us 🙂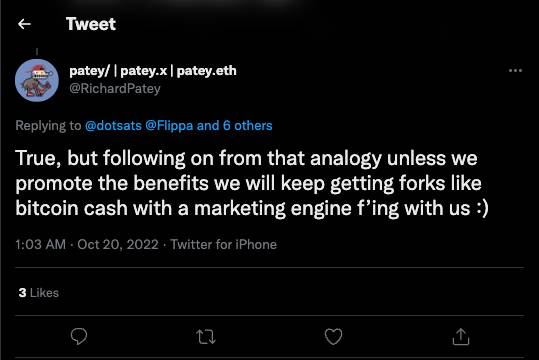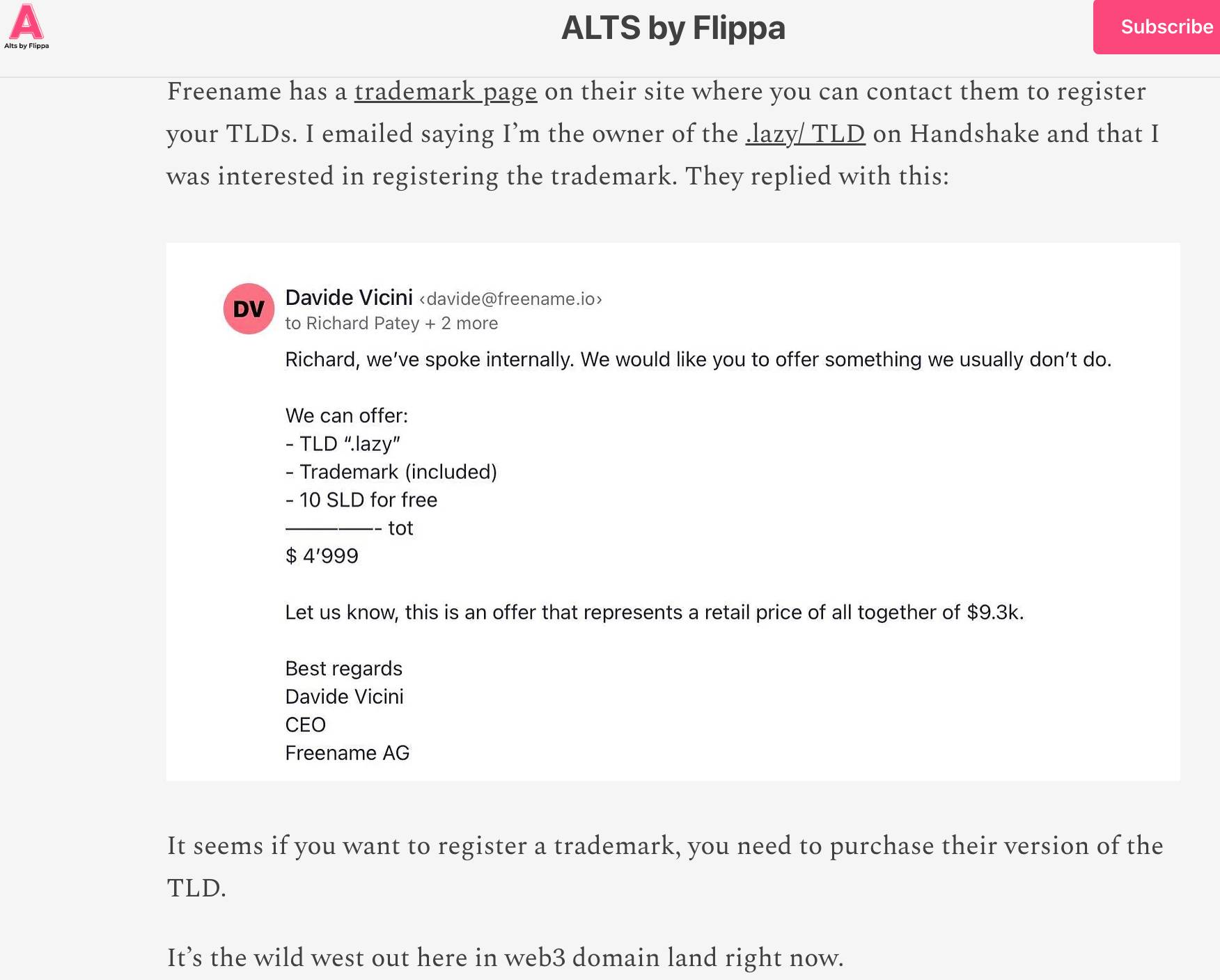 So Freename wants $5,000 USD - to go where? To their private company? To be used for what purpose?
So many questions!