Handshake Ordinals Collection – Limited Edition 48 Inscription Collection
Please refer to our Skyinclude overview video on ordinals here to get a more broad overview of the Bitcoin ordinals and how it works - today is a shorter one to introduce a 48 inscription collection we made to celebrate Handshake.
The race was on to figure out Ordinals and create a Handshake collection to represent HNS! On April 5, we inscribed 48 - and broke it down the following way:
There are 4 different logo versions of the Handshake logo:
Black "filled"
White "filled"
Black "outline"
White "outline"
So we took 12 colors:
1) red,
2) orange,
3) yellow,
4) chartreuse green,
5) green,
6) spring green,
7) cyan,
8) azure,
9) blue,
10) violet,
11) magenta and
12) rose.
And made 48 unique sets of the Handshake Ordinals collection, each having its own version of the logo and background color.
We just auctioned 2 off at the April 2023 Flamingo Handshake auction and are happy to start to slowly distribute these to the HNS community. Soeren won one and said he'd represent it at the NamesCon conference at the end of May!
How To Find These Handshake Ordinals?
We are in the process of creating a collection, and submitting to various Bitcoin Ordinal marketplaces. For now it is active on Magic Eden, you can go to MagicEden.io/ordinals and search "handshake" and currently our collection is the only one that shows up - or here is the direct link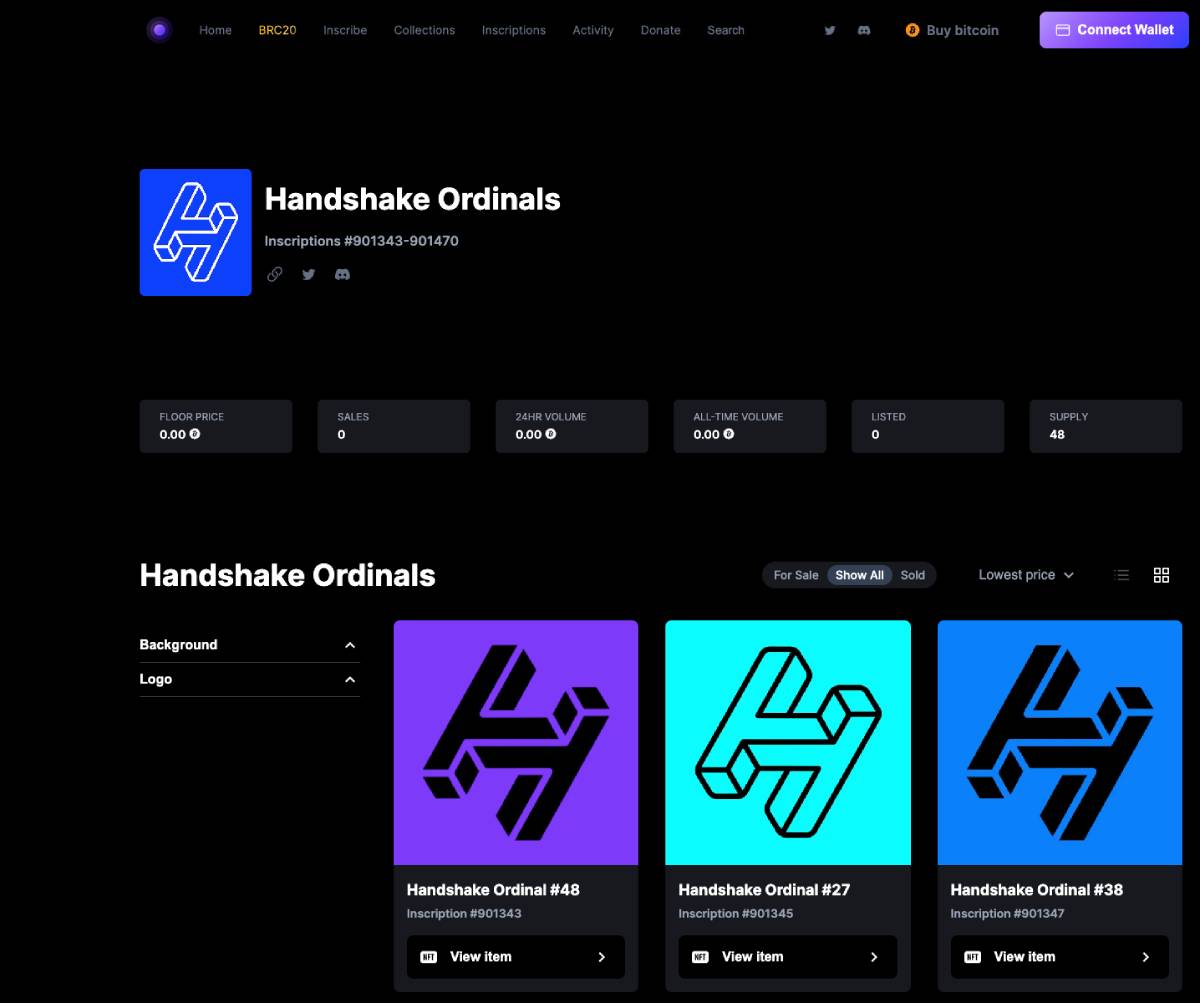 You can list yours for sale there, or buy there as more come into the supply (as we release from the 48 we inscribed).
How to Receive Your Handshake Ordinals (if you won at Auction)
If you won this at a Flamingo Handshake Auction and are wondering how to get it into your wallet - you should check our out skyinclude.com/ordinals overview- but here is a quick way.
Install an Ordinals compliant (Taproot) Bitcoin wallet - I am most comfortable with https://www.xverse.app and install on your Chrome browser as an extension (like MetaMask)
Create your wallet (seed, etc)
Click receive, and then pick ordinals, and copy that address (should be a bc1 address)
Send that address to the Flamingo Handshake auction team, so they can have the ordinal transferred to your address.
To See the Ordinal In your Bitcoin Wallet
Again you need a TAPROOT upgraded wallet, older wallets will not work w/ Ordinals (well they work - just the satoshi will get mixed up with your millions of other satoshi and y ou'll lose the inscription forever most likely)
So if you have the Xverse wallet , or whichever Ordinals / Taproot supported wallet - you will see it in the app extension itself, or:
Go to Magic Eden / Ordinals Wallet / any one you want - and login with that wallet, go to your account / your wallet - and it will list all Ordinals you have in that wallet.
Notes - No Renewal, No Upkeep Required
You don't need to have BTC or anything in the wallet (unless you want to sell or transfer it). There is no hosting for the image either (unlike Ethereum) - it is a satoshi with inscribed "bits" on it - so this image will stay forever on the Bitcoin blockchain.
Enjoy!