Hey TX Site Building Competition
Hey tx is planning on doing a "30 sites in 30 days" initiative to encourage building with .tx domains. It will start this weekend, October 15, 2022.
Any .tx site shared with Hey tx counts as an entry and we'll be highlighting one site a day.
In mid-November 2022, we'll announce 3 winners. Here are the rewards.
1st Place - 10,000 HNS.
2nd Place - 4,000 HNS.
3rd Place - 1,000 HNS
Winners will be chosen at Hey tx's discretion.
Bonus points for
1) creativeness with .tx domain and content,
2) using decentralized storage and/or hosting, and
3) stickiness.
Tweet announcement:
https://twitter.com/Hey__tx/status/1581263909268631552
To encourage building with #HNS, we're announcing the "30 sites in 30 days" initiative! Any .tx site shared with us counts as an entry and we'll be highlighting one site a day. 15k $hns in rewards 🎉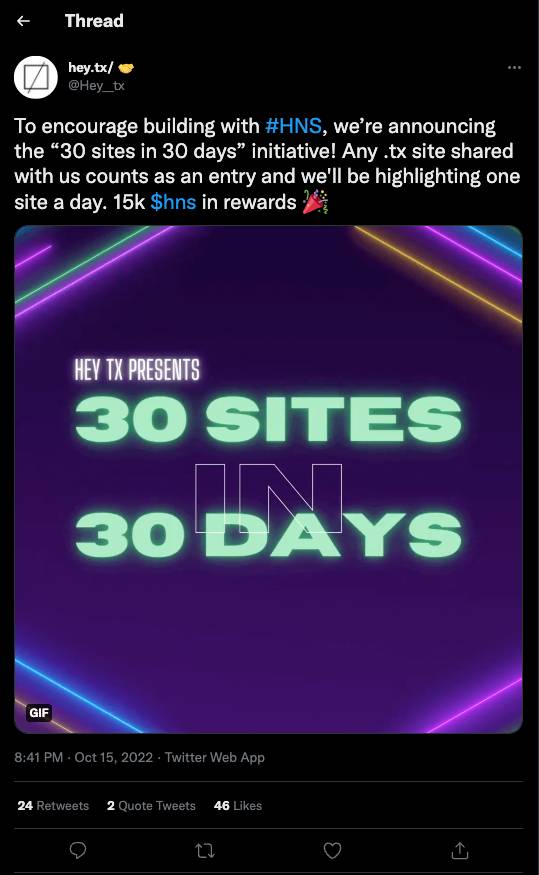 Day 2: THE.tx/
Come play the first Texas hold 'em game on #HNS ♥️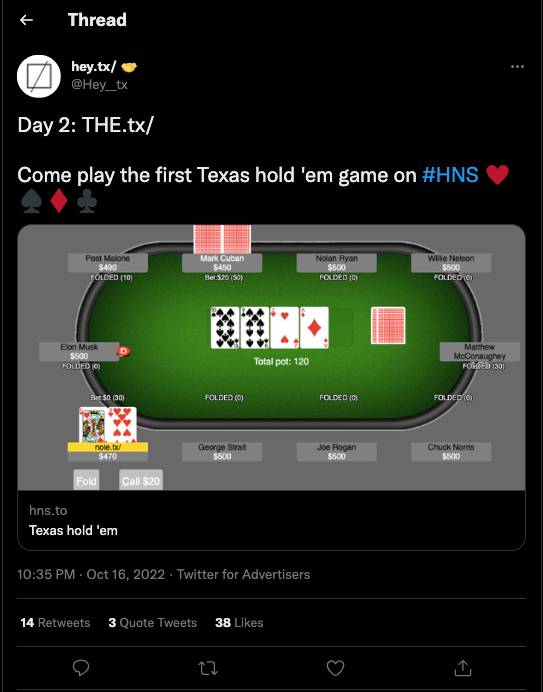 Day 1: 1inch.tx/
@1inch
A huge issue with DeFi today is the utilization of centralized frontends. Thanks to #HNS and
@SkynetLabs
, a better web is possible 🤝
Day 2: THE.tx/
Come play the first Texas hold 'em game on #HNS ♥️