HSHub Name Server For Your Handshake TLD
Looking for an easy way to setup name server records on your Handshake TLD? One that doesn't need you to stay on Namebase or other registrars so you can transfer your TLD freely across the Handshake blockchain?
Then look no further - HSHub.io is here. Made by the same developer as the HNS.chat handshake chat system earlier this year in 2022 - HShub is a response to the need for name server solutions!
---
I've been watching Handshake for a while and agree this is something very much needed. I am paying for Sinpa pro now on one of my TLDs, but not in a position to invest in paid name server accounts on all my TLDs. Because of this, I have had to keep those name server TLDs on Namebase for this reason alone.
This is a free solution - for how long, not sure! But it is amazing.
Tweet announcing it:
https://twitter.com/eskimo_dev/status/1499447649451266055
Using HSHub, you can update your Nameserver and DS records on the HNS blockchain, and then allow you to update SLD records and others in their account.
I did it in my Bob wallet, and had to add an extra "." At the end, thanks for the quick answer Terrance!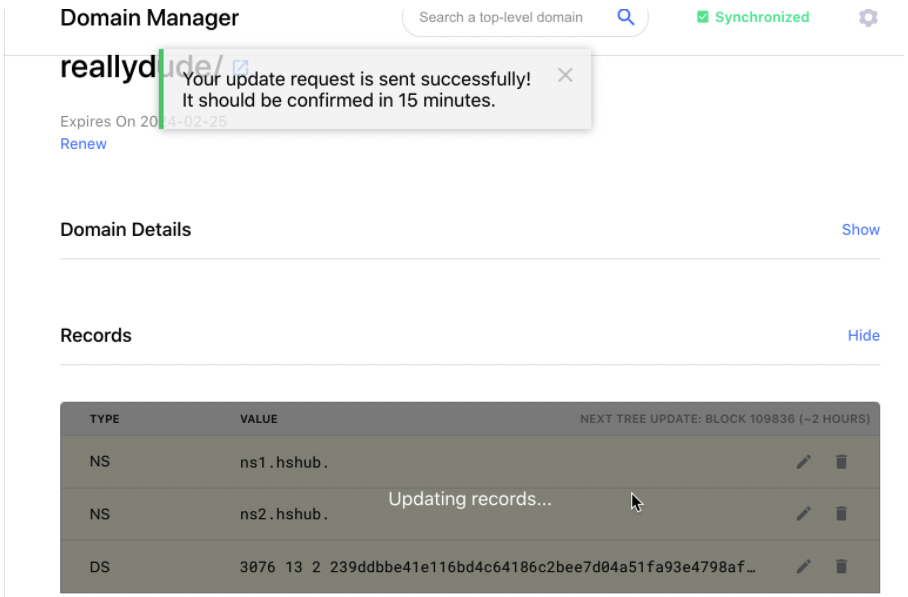 You can do this on Namebase first, use HShub for your name server, and then be free to move where you'd like (since you cannot use Namebase name server if your TLD is outside of Namebase).
To do this in Namebase - go to the namebase TLD you own and manage
NOTE - leave the name field blank on the name field for NS -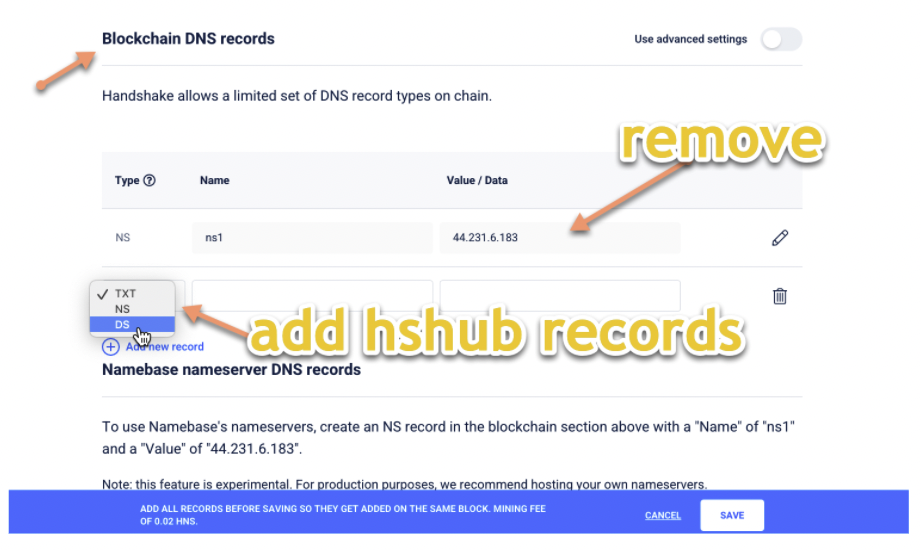 Leave the name field blank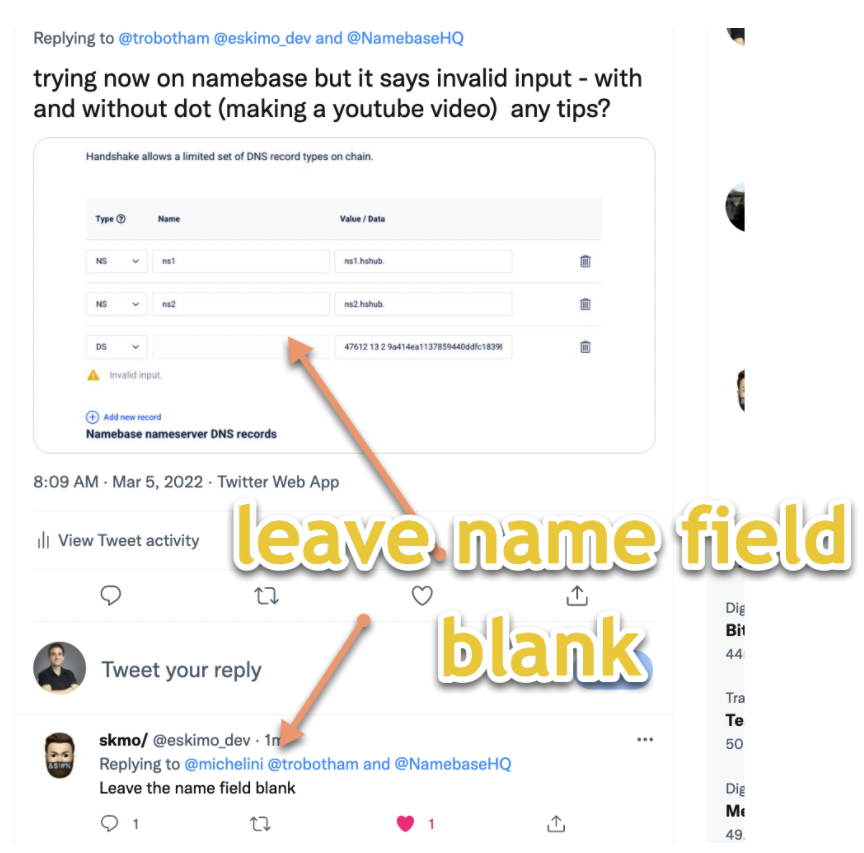 Then it will take time to update on the blockchain: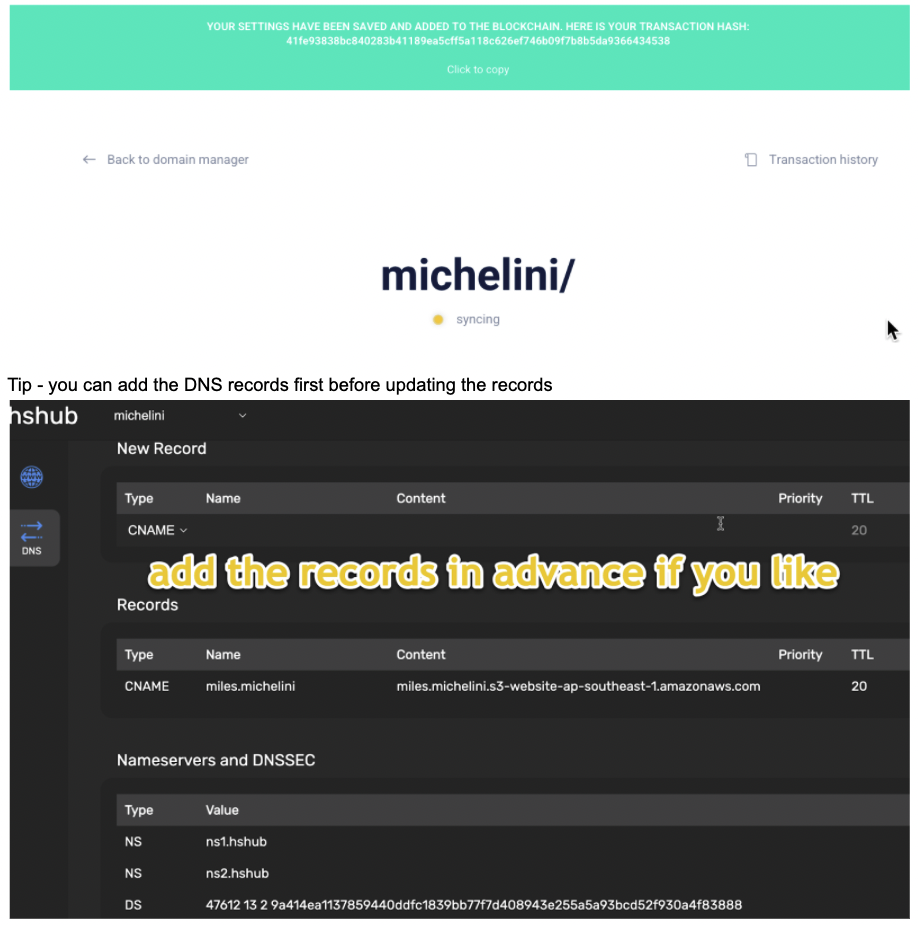 Again, just more options and tools for your Handshake toolbox. One I am for sure going to utilize more and more .
Now, if we can find an "easy" way to SSL our names, for internet marketers like me, that would be epic.
More Updates - using DLinks outside of Namebase:
Need to learn this, but Xing yue told me:
About the dlink page.
The dlink content depends on the TXT record of _contenthansh. , the value should be like sia://AAC0UxqHmb-i2brGIVC8h7Ceq-W6PBG0GxcwHhkvBh88CQ
Which can help any dlink server find the real content.
After all the settings done. It can be visited from .hns.is .