How to Transfer Handshake Domains in/out of Namebase
There have been questions in the chats and communities of Handshake - how to transfer in and how to transfer out Handshake domains from Namebase.
This video is for you:
---
For those not aware, Namebase.io is the dominant marketplace and registrar of Handshake domains. Basically, seems the majority are using them to do their bidding in auctions, as well as to buy and sell in their aftermarket (marketplace).
In a previous video - LuckyBrock asked:
Please go over how to make a handshake tld without first buying one on Namebase. How do I get an original tld onto the Namebase registry? LuckyBrock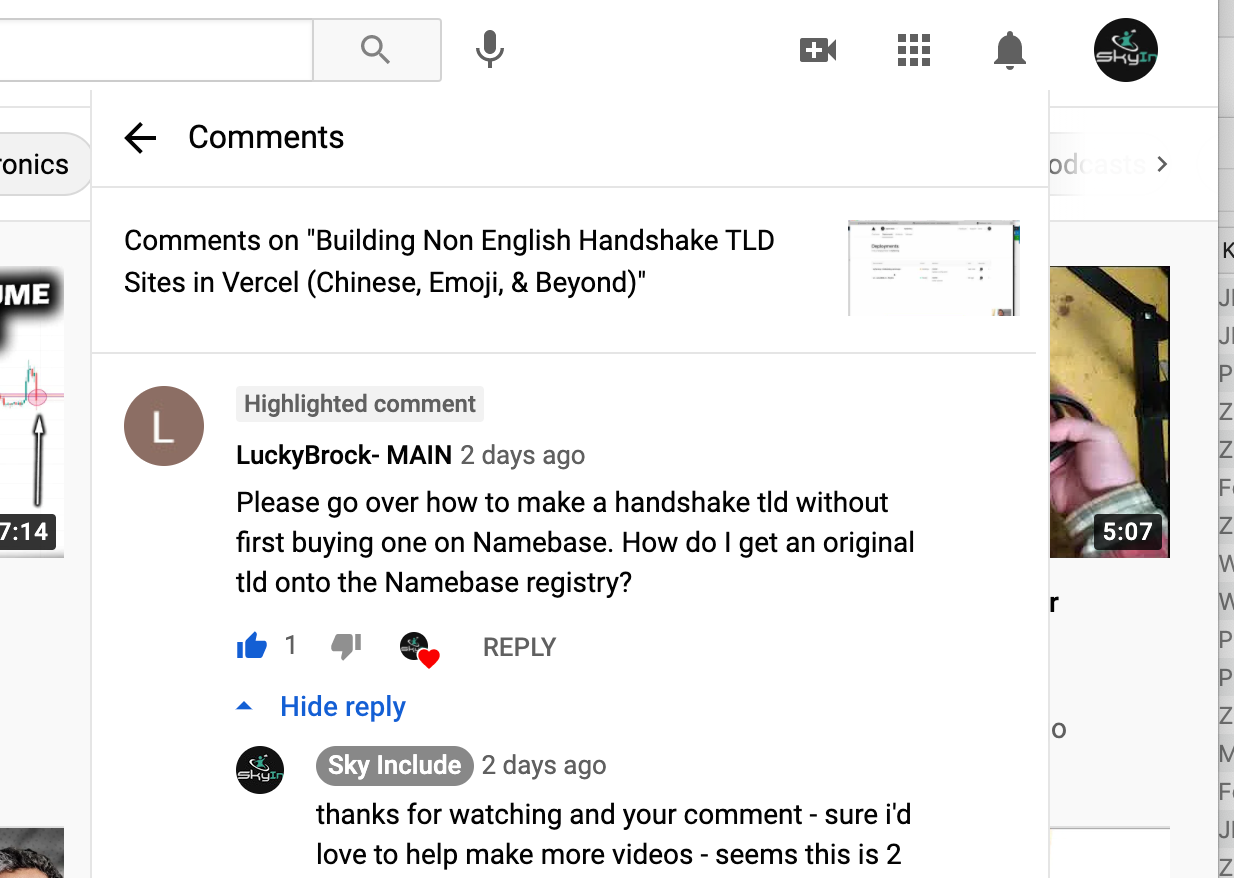 Why Would you Want to Transfer In / Transfer Out To/From Namebase?
---
Before we get into the technicalities of how you woudl send in, or take out a Handshake domain, let's talk about some of the reasons why you would do it one way or the other.
Transferring In Handshake domains to Namebase - why?
Let's say you used Bob Wallet (check our tutorial here - https://skyinclude.com/bobwallet/ ) to win some auctions. But you want to sell them, you don't trust yourself to remember your wallet secret key, or are nervous you may forget to renew the domain every 2 years manually.
Namebase is a great option for:
---
Selling your Handshake name

Their aftermarket looks like the best place to currently buy and sell your names. Simple mark it for sale and people can make offers and you can receive your HNS (minus their current 3% fee) into your Namebase account. Simple, fast, no need to get technical or trust. Note, there are other marketplaces - such as Sinpaples and you can use Bob Wallet and other app and services for escrow and exchanges.

Easy to use interface

Let's face it, Facebook beat Myspace and Amazon beat eBay because they had simple to use and clear interfaces. Same goes for Namebase - you don't need to know code, you don't need to download software (such as Bob Wallet) and sync the Handshake blockchain to your local computer, etc. It is there - you login with an email and password like other online services, and you are done.
Summary - you have the ease of use and the highest ability to sell your handshake domain here.
Some of the reasons why you would want to move your domain out of Namebase
Now that we talk about the reasons to move them in, let's talk about some of the reasons why you would want to transfer them out.
---
More control

Again- as I have said in other tutorials - "with great power, comes great responsibility" - in crypto, it is the same. Keeping your domains on Namebase is similar to keeping your bitcoin on an exchange. You don't have full control of the domain. The secret key for the wallet - do you have it? No, it is owned by Namebase. But this is why we say great power comes great responsibility - if you put it in your own wallet (such as Bob), you need to be fully responsible for keeping the secret key. Losing secret key, is like losing secret key on BTC - it is irrecoverable.

More decentralized

Having your crypto in your wallet is like having your Handshake domain in your own wallet. It is in your full control. So - essentially - if any issue happens at Namebase, there is a request to take down a domain, etc - we are not sure what will happen. By having the domain in a wallet, it is only on the blockchain and you (with your secret key) and only you can edit the DNS or change any settings.
Again - both options are totally fine. Most of the people I know have their domains in Namebase and they have amazing support and are doing amazing things for the community.
So now, let's discuss sending them in and taking them out. And it is covered in the Namebase learning section - From https://learn.namebase.io/about-namebase/transferring-entities#transfer-in-handshake-domains
How to Transfer In Handshake Domains to Namebase
---
And to quote their learning center: Transfer in Handshake Domains
To initiate the transfer, please transfer your name to your Namebase HNS wallet address, which you can generate through your dashboard. Once you've sent the TRANSFER and FINALIZE transactions (these must be spaced a couple days apart), the transfer will automatically process in 20 block confirmations. Namebase's learning center
Breaking this down:
In previous videos we have done, we explained how to send or receive HNS in your Namebase wallet. So this wallet address is that same one, except instead of sending HNS cryptocurrnecy, you are sending the actual domain.
You'd copy the wallet address from your Namebase dashboard, and go to the wallet or exchange (registrar) where you current have it - and as they said - make 2 transactions - first a transfer transaction, and then a finalize transaction.
We haven't done this yet, so can't show you - but they state the 2 transactions need to be spaced out a couple days - so that would hint this isn't something you can do when you get a buyer for your domain and you quickly transfer the domain to Namebase to settle the transaction. It will take a few days.
As of now, the only other wallet we know of to buy Handshake domains is Bob Wallet - so you would do this from their domain manager.
How to Transfer In Handshake Domains to Namebase
We're currently building a tool for Namers to easily transfer their Handshake names to external HNS wallet addresses. For now, please email namewithdraw@namebase.io with your request. Namebase's learning center
This is something many in the community have been looking for - an online way to request removal rather than manually emailing their support.
While of course no company wants to have domains leave their account (think Godaddy, and others) - we believe once this functionality is streamlined and online - more trust and transparency in the Handshake ecosystem will develop. We can understand why Namebase isn't prioritizing developing a feature that allows users to leave their platform, but we hope they can understand how this will build more trust and transparency in the community as a whole.
Stay tuned as this develops more.