Opera Announced Integrating Handshake!
SkyInclude's Interpretation Of the Opera Browser Situation
Many on Discord, Twitter, etc have been DMing asking what all of this means? While we are not fully in the details and have also not seen the contracts or been in the negotiations - this is what we interpret:
Dweb Foundation was the entity discussing with Opera Browser about integrating Handshake. It was confirmed (contract signed? Not sure) for a $150,000 USD fee in the end of 2021. A PR release was made from Opera Browser side, and dWeb Foundation was expected to pay this 150k once the integration was complete.
The integration is nearing completion, and Opera is expecting the 150,000 USD. But crypto has crashed since the end of 2021, and dWeb Foundation has its funds in crypto. Therefore, stated to the community it was approximately 30k USD short and the payment was coming soon.
So Skyinclude/ felt it was a good time to add all the normal proceeds raised from the monthly Flamingo Handshake auction to have it go to dWeb Foundation for this Opera browser integration.
On top of that, dWeb Foundation opened up that anyone is welcome to contribute funds. The owner of .x/ on Handshake put in 5k, Jehan Chu from Kenetic Capital put in 5k, and Richard from Namecheap put in 22k.
So now it looks we have raised more than enough, but what is the future for dWeb Foundation's funds, and how do we raise money as a community towards more initiatives?
The Notes & Discussions About Opera From dWeb Foundation
Here is the quotes and text and history of our findings:
Right at the end of 2021 we heard Opera announce integrating Handshake!
https://blogs.opera.com/news/2021/12/opera-handshake-hns-partnership/
And in June 2022, I am in various Telegram groups, and the dWeb Foundation announced:
Hi all - this is in regards to the Opera integration. The dweb foundation is about to pay $150k for the integration once it's been delivered. We unfortunately didn't sell the assets in our treasury when prices were still up and therefore the value has reduced to by 2/3 of the value held at the height of the market. We've gotten an external pledge of $100k but will still be about $30-$35k short. I'm reaching out to this group first to see whether there are donors interested in pledging any amount (which will be 100% tax deductible if you're in the US). Your logo/branding would go up on our website/socials and called out every chance we get. This is a great opportunity for the hns community to come together to get this project past the first critical domino that needs to fall in order to get meaningful adoption.
.x putting in 5k
About integration;
This is what they've shared with us:
"Our technical team has evaluated the technical needs and based the implementation on their findings.
The resulting initial implementation has been based around constructing our own implementation based on the hnsd codebase.
All communication is appropriately encrypted and securely served via our infrastructure, which incorporates dynamic scaling functionality based on the observed load."
IE - running a single hosted hnsd based resolver.
We got $5k out of $30k outstanding committed from .x/, anyone interested in matching it? 💪
Jehan Chu from Kenetic put in 5k.
We got a pledge of $22k from @NamecheapCEO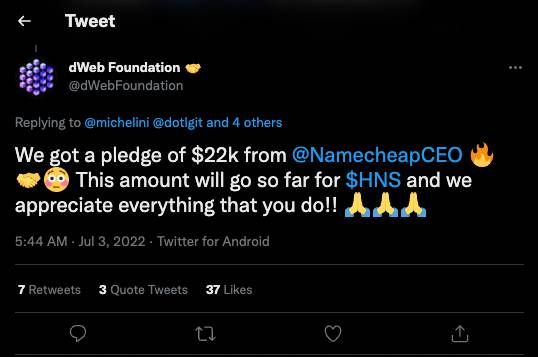 Question from wallet/
I have a question about the Opera integration... does this payment to opera buy Handshake integration with only their current version, and if we want integration with their next release that will be another fee? or is it a deal where once we pay, we get to be in all future versions of opera for life?
Answer from dWeb Foundation
Will be a new contract with a new cost. Which is why it's important that we start thinking about how the HNS community can start self-funding without the need for a third party nonprofit to raise independent donations to pay for these things. There are lots of crucial core dev/wallet/browser integrations that all cost money and it's untenable for us to raise funds for each of these in such small quantities at a time. Icann's name claim allocation is a no brainier to claw back for the HNS community to put towards public goods like the above-mentioned integrations. The dWeb Foundation will have exhausted all of its funds paying for this integration and have paused Nodar's core dev work from July onwards. @ca98am79 maybe Impervious may want to hire him on? But after the Opera integration goes through, it's critical for members of the community to consider other means of funding needed handshake work sustainably.