Hardware Is The Answer - Routers For the dWeb
Want to Buy or Sell An Indigitus Miner NFT?
---
Due to the May 2022 announcement from Indigitus - we at SkyInclude want to facilitate NFT swapping. If you want to sell or buy an Indigitus NFT - which means you will be receiving 1 (1 NFT = 1 miner) from the first batch when it is ready (date not known).
then email us at support@skyinclude.com
with the subject line - Buy/ Sell Indigitus NFT 
and we will match with our buyer/seller network.
Stay tuned for a more formal way to do this.
Rollercoaster ride but what I have come to realize is - when you signed up as a director of Handshake - did you really think adoption was going to be easy? If you're an early adopter (like me) and you just can't seem to understand why others "don't just get it" - most of the time it is because it is too difficult to use.
Today, I'm excited to share a plug and play solution to solve that problem.
Along with a way to even GET paid for it.
And no, I'm not hawking MLM get rich quick scams - but the wording above probably is triggering the AI algorithm of Youtube and Google for that.
So let's dive in.
When I heard about Handshake by my buddy Chris Moore in Hong Kong in October 2020, I was thinking - will people really use this. You gotta install some chrome extension (I was using Next DNS) and figure out if you need http:// in front or you put a slash at the end, etc etc.
Let's wait for browser adoption.
Learning that there are massive gatekeepers, and these extensions are just a hassle - there has to be a better way.
So happy I invited my 10+ year friend Nik to HandyCon in March 2021 where I was inspired - HARDWARE is the answer. Have the routers installed with Handshake "inside".
Nik and I chatted to a few people after the conference, but honestly - a hardware device for Handshake website viewing alone is a hard sell.
As I've gotten more into the dWeb and the community - Kiba and others suggested I can help do business development with other blockchains in the space. XNHNS collaborations, cross promotions, etc.
Those roads lead me to Sentinel, aka DVPN. A protocol that had just moved the Cosmos ecosystem from Ethereum with an active and passionate community for an open internet. Diving into the whitepaper, Telegram groups, and asking around, it was epic.
Warm introduction to the team there I had an amazing call in April 2021 about the concept of a router - need a plug and play easy to use device I can send my non techie friend - plug it in - and get the dWeb. And I said - it has to have Handshake inside.
Then I found out - Sentinel LOVES Handshake - and already had HNS in their nodes.
Digging into factories, samples, talking to hardware and software experts in various communities - Indigitus was born.
A dVPN router - Lifetime dVPN, "Miner" Node, and Handshake Resolver in 1
So what exactly is this product?
It hits "3 birds with 1 stone", and still seems too good to be true as I type this out for you
A dVPN Router

This is an obvious one - you plug it in, set up your account, and can use it as a decentralized VPN (client)

Handshake Resolver

Has to have this! By using this device and connecting to the wifi network it broadcasts, you can browse Handshake sites

A dVPN Node ("miner")

Not exactly a miner - but it is a machine that will earn dVPN token for you. Allow others in the Sentinel protocol to use your excess bandwidth, and earn token.
And talking to Sentinel - we're super excited to make some really amazing additional bonuses and offers to early backers.
This is coming to Indiegogo in July, and you can get on the wait list at https://indigitus.com (or indigitus/ on HNS).
Join us for a Telegram AMA Monday June 7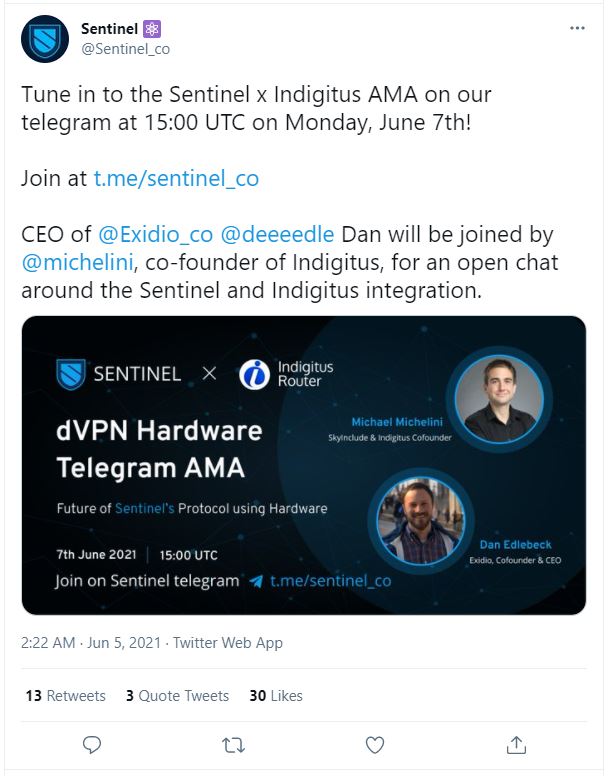 Or register on https://indigitus.com/ama
Doing WHATEVER it takes to make the internet the way it is meant to be, for our children.