Own YOUR name forever – Handshake Startup SuperLink Me Goes Live
That is the wild thing about Handshake and decentralized communities in general, people are building in the background and things just pop up.
This one has been in stealth since the early days and only came on my radar in 2023 - Superlink.me - a registrar for REAL people's names on the blockchain.
Here's their kickoff tweet
https://twitter.com/superlinkme/status/1625532621806616584?s=19
⚡️ It's time to own the real you ⚡️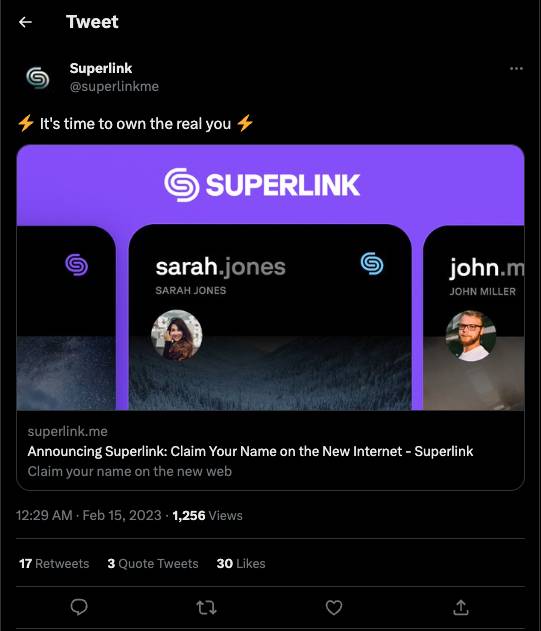 It's time to take back the Internet... so we just launched
@Superlinkme
What: personal domains - your name, just your name. No .com, .eth, .xyz. One link for everything that matters in your digital world.
45% of names available. Is yours? http://superlink.me
Learn more 👇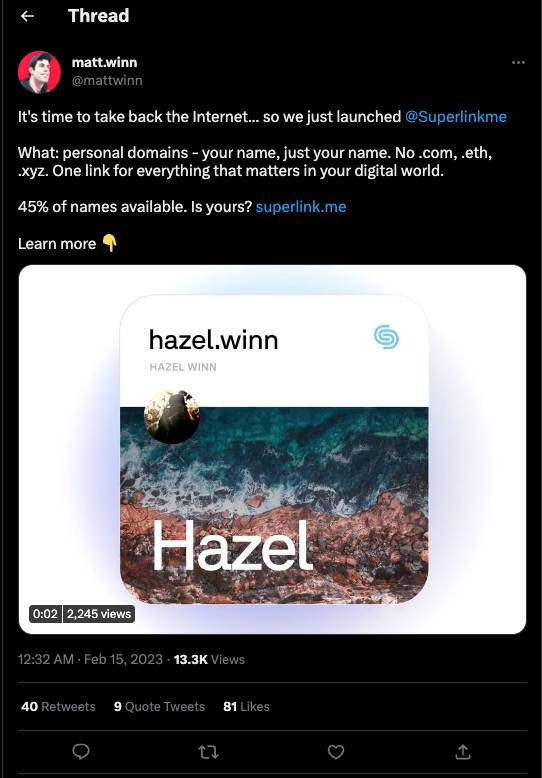 Many of you see on my twitter, my "name" is "Michael.Michelini/" which is a Handshake SLD that is fully built out as a mirror of my DNS name MichaelMichelini.com
Actually getting the .michelini/ TLD on Handshake was a top priority when I first learned about HNS. And the story is similar for many others.
We all (most of us) want to own our name, our legacy, our personal brand, on the internet.
So now we have Superlink.me - which allows people to buy their firstname.lastname in a ONE TIME lifetime purchase. And their team of 5+ full time people have built a whole account system to manage this domain name for your website, wallet, email, and more.
I talked to Matt one of the co-founders and they have approximately 1.2 million Handshake family name TLDs. INSANE!
The concept is to be THE registrar for family names / real names - and 1.2 million is a big chunk (he says approximately covers half the world's population of names.
Handshakers - Have Your Family Name? Partner with Superlink
I'm just learning this myself - but you can partner with Superlink as a Handshake TLD owner of family names. More information will come out, but check their partner page on the site for the details - idea being they want to have profit share and other benefits for "staking" your family name.
Definitely considering this for the ".michelini" TLD and will review the terms just like all of us - and make a new SkyInclude video as that comes out.
Also they will share at the third annual HandyCon this March 8-10, 2023, so register free at HandyCon.xyz today!