The .wallet Saga update between Handshake and Unstoppable Domains (1 year later)
Have been so tempted to make an update on this .wallet case - but been told to "keep my mouth shut" during the court proceedings. A lot of discussion happening behind closed doors and first of all want to say:
THANK YOU SCOTT (the TLD owner of .wallet) for sticking with the Handshake community and taking those beatings against the litigious Unstoppable Domains private corporation. He is personally named on the lawsuit and it is just a real David vs Goliath story.
THANK YOU NAMECHEAP for backing .wallet and the small and fragile Handshake community in this frivolous lawsuit Unstoppable Domains thought they could just bully a small startup Gateway with.
FYI Namecheap has won a lot of legal cases, even against massive companies such as Facebook.
https://domainnamewire.com/2022/04/25/meta-platforms-drops-lawsuit-against-namecheap-after-settlement/
Unstoppable just today tweeted this out
https://twitter.com/unstoppableweb/status/1701704919752011958
We voluntarily dismissed our .wallet case because defendants stopped selling conflicting domains.
We achieved our goal of preventing harmful .wallet collisions and will continue to vigorously defend the rights of all of our customers & apps.
Collisions are bad for everyone!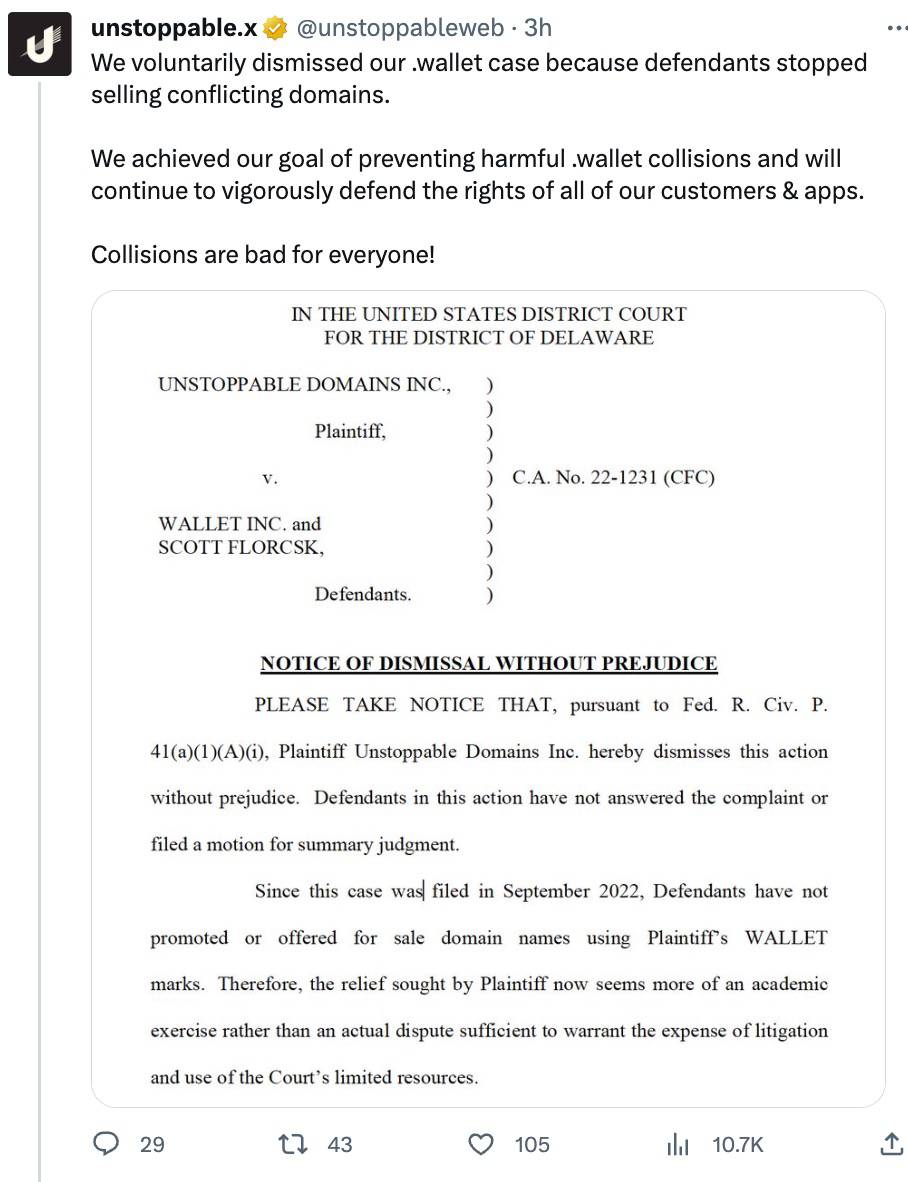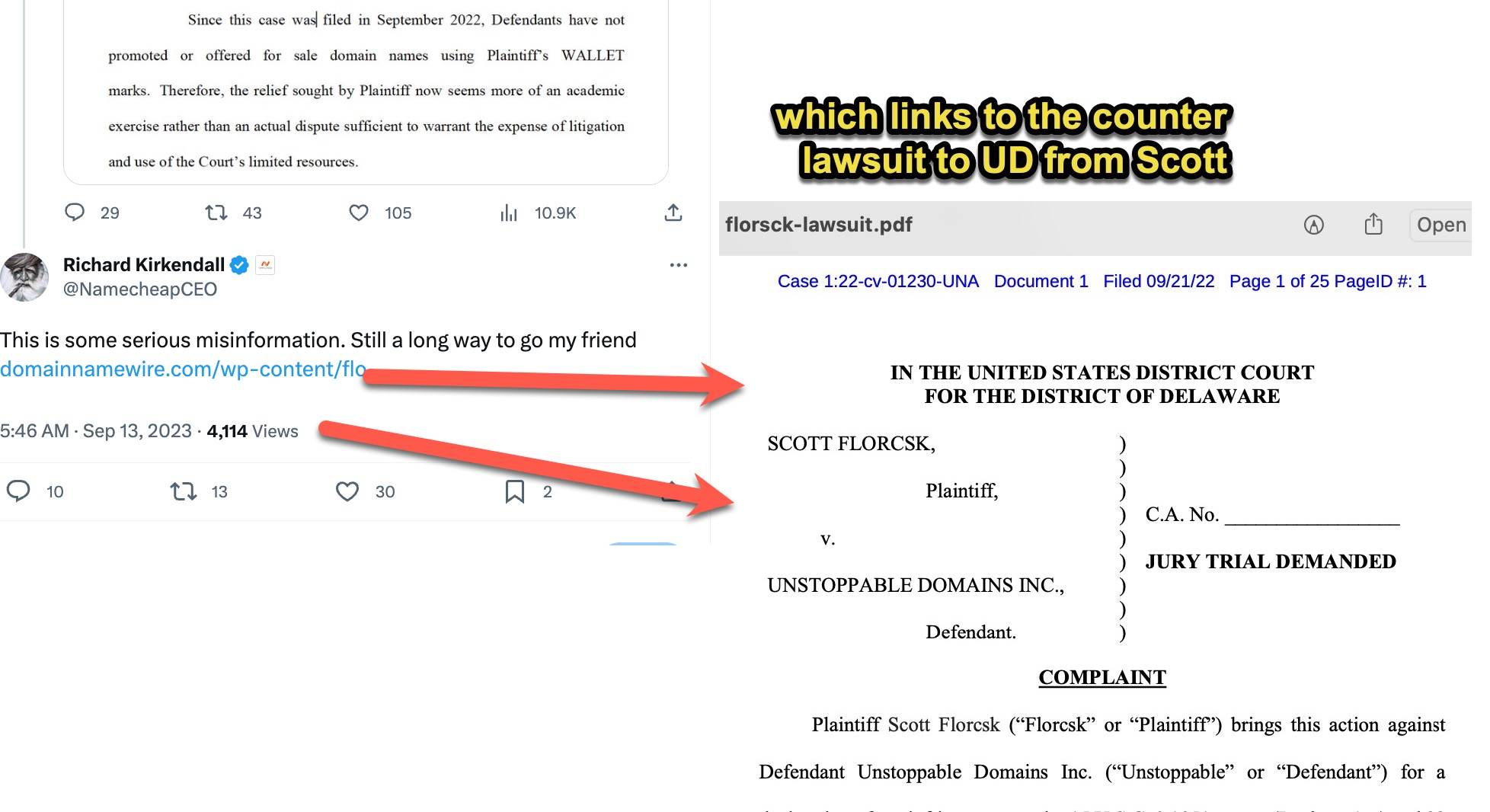 This is a dispute between two companies offering blockchain domain name services related to the ".wallet" top-level domain (TLD):
- Plaintiff Scott Florcsk owns the .wallet TLD on the Handshake blockchain and was allowing domain registrations under it.
- Defendant Unstoppable Domains claims to have trademark rights over .wallet and demanded that the plaintiff stop allowing .wallet domain registrations.
- Unstoppable Domains previously applied for a .wallet trademark but was rejected by the USPTO. They also applied for a regular "wallet" trademark but that was rejected as merely descriptive.
- Unstoppable Domains sued the plaintiff's domain name registrar, Gateway Registry, for trademark infringement to try to get them to stop allowing .wallet registrations. Gateway shut down as a result.
- Plaintiff Florcsk is seeking declaratory judgment that he is not infringing any Unstoppable Domains trademark, since their applications were rejected. He also alleges unfair competition and antitrust violations.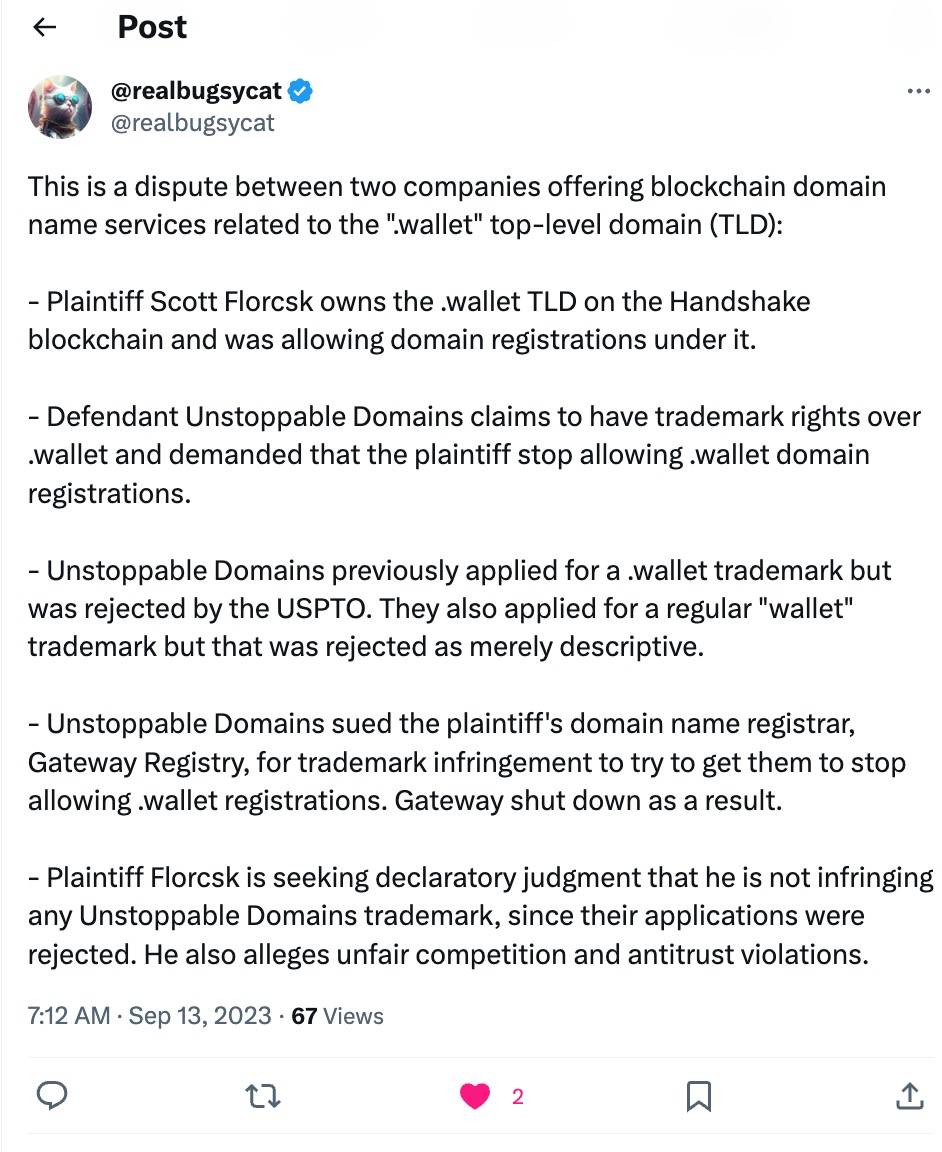 #UnstoppableDomains didn't have a case. This was a frivolous lawsuit to silence the #HNS community.
Newsflash: It Won't Work!
Decentralization (
@HNS
) is truly unstoppable and will trump centralized domains (
@unstoppableweb
)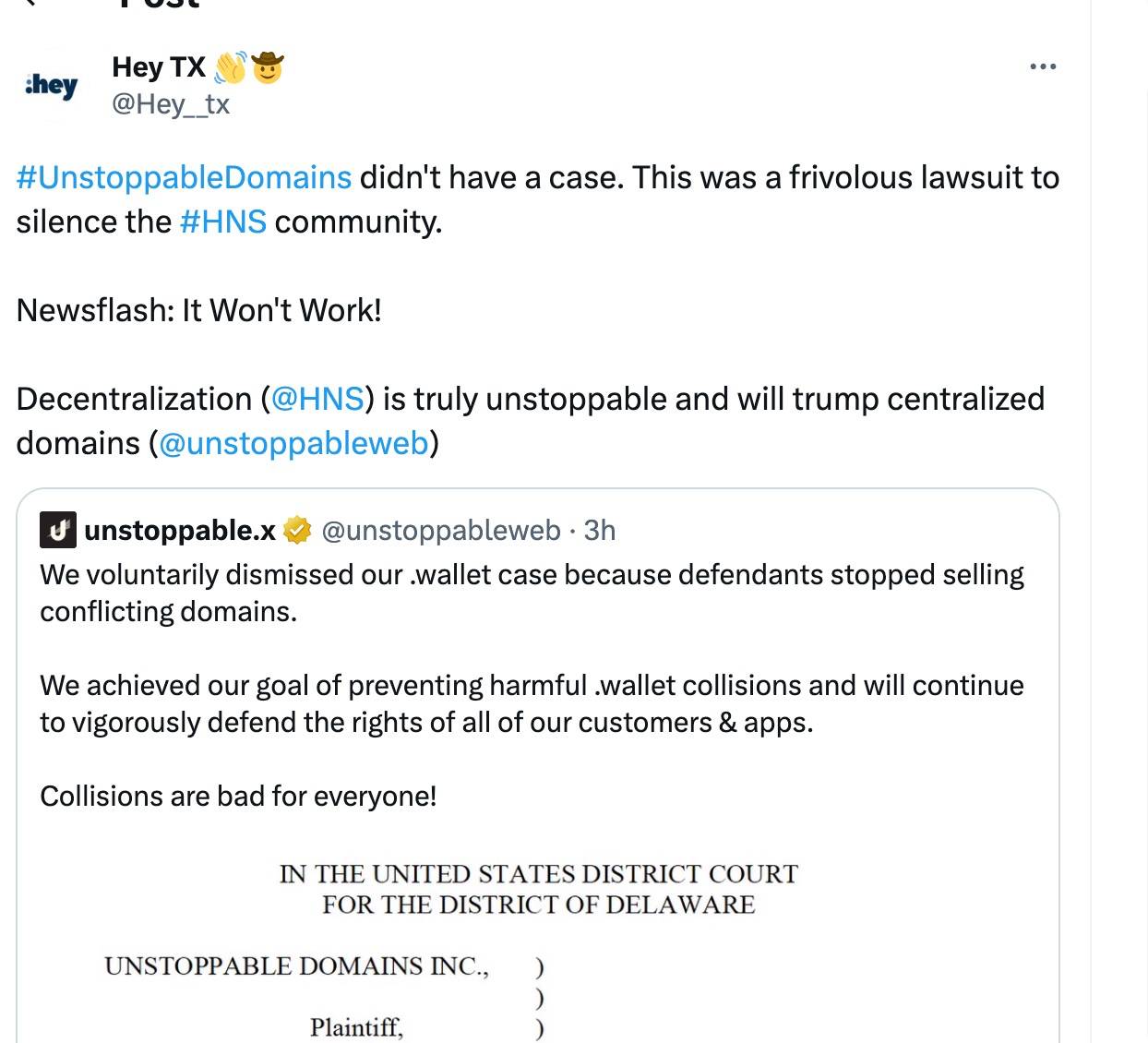 #UnstoppableDomains stops its lawsuit against the owner of the $HNS .wallet TLD after burning $1M in legal fees. Stopping things, that's what they're good at! But it seems like they won't get away that easy. The countersuit against UD is still ongoing 🍿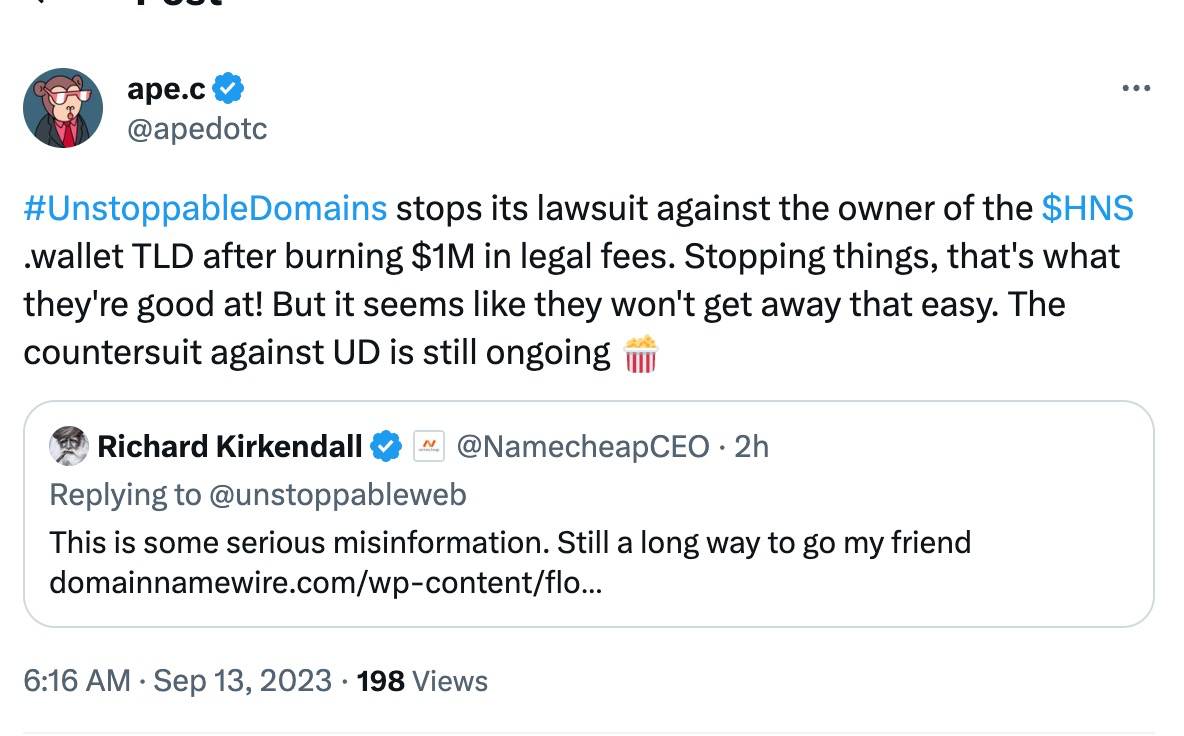 Keep in Mind - Scott Has Countersued Unstoppable Domains and Isn't Dropping That Case
And there is a countersuit to Unstoppable Domains from Scott for suing and destroying Gateway and his TLD business.
That is not being dropped.
Unstoppable has failed over and over to trademark .wallet, and seems they are just very eager to brush all of these under the rug.
Not sure why on the side of Unstoppable all this panicking to settle things. Some of us speculate their VC investors are getting impatient. Or too much burn on lawsuits and legal fees?
Looking Forward To Getting My Handshake .wallet domains re-instated
I know a lot of you are disappointed your .wallet domains on Handshake were temporarily lost during the Gateway bankruptcy. But Scott has the database and fully intends to re-instate those domains for you one the lawyers let him.
There is no agreement from Scott to give up the Handshake .wallet domains and all of us in Handshake are confused where this Unstoppable tweet even came from?
The David and Goliath story is far from over. Especially with the support from Namecheap, the lawsuit from Scott to Unstoppable is NOT going away.