Getting Started on Stargaze NFTs with Handshake Integration (Part 1)
There is a lot of synergy and collaboration between the Handshake community and the Stargaze community. It makes sense, both are for creators and builders - and Handshake is the domain - and Stargaze is the content creators and artists.
Handshake is shaking hands with Stargaze!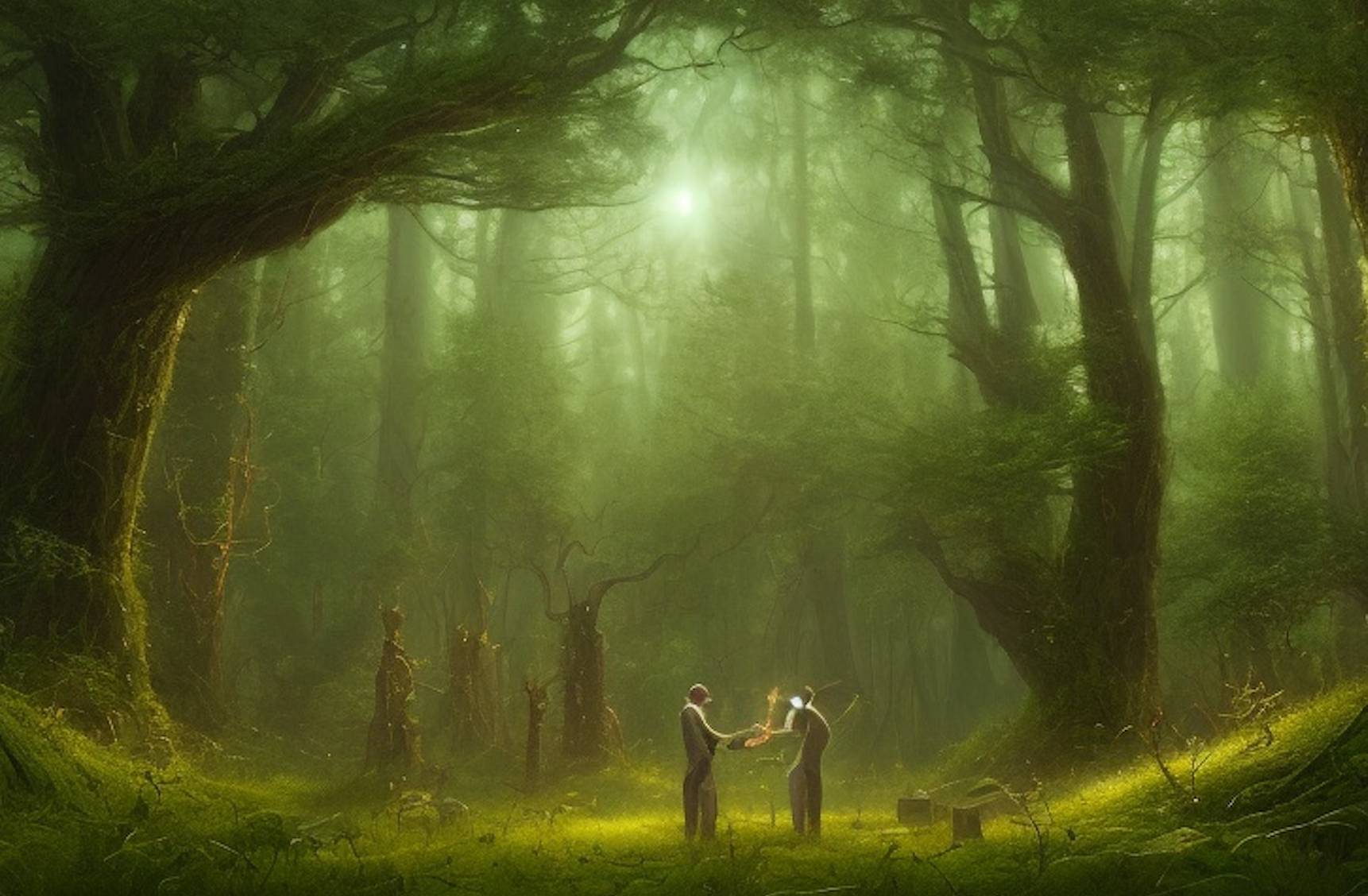 There is a ton of synergy and I have a lot of people on both sides of the "camp" telling me things in various twitter DMs and other messages, so I believe it is time I do a mini series to educate our SkyInclude community on the ways this can be powerful for you - as a Handshake TLD owner and as a web3 enthusiast in general.
We will also use this 1 month to HandyCon as a way to push us (me) to make this series line up to that launch of the event (hint: expect some fun stuff from the community and creators at Handshake and Stargaze).
Step 1 - Get Involved in Handshake HNS
Because SkyInclude channel has been all about Handshake, I won't fill this guide with the basics. Instead I'll link to some of our 101 guides for those learning about Handshake for the first time to check these out:
Handshake 101: https://skyinclude.com/start/
Which links to many many other videos and guides to let you dive deep down the Handshake decentralized domain rabbit hole.
Step 2 - Get a Cosmos Wallet (Keplr) for Stargaze
Next , assuming step 1 means you're up to speed on how Handshake works and how HNS SLDs and TLDs work - lets work on the "bridging" or the "connecting" with the Stargaze community of creators by getting a Cosmos (ATOM ecosystem) blockchain supported wallet.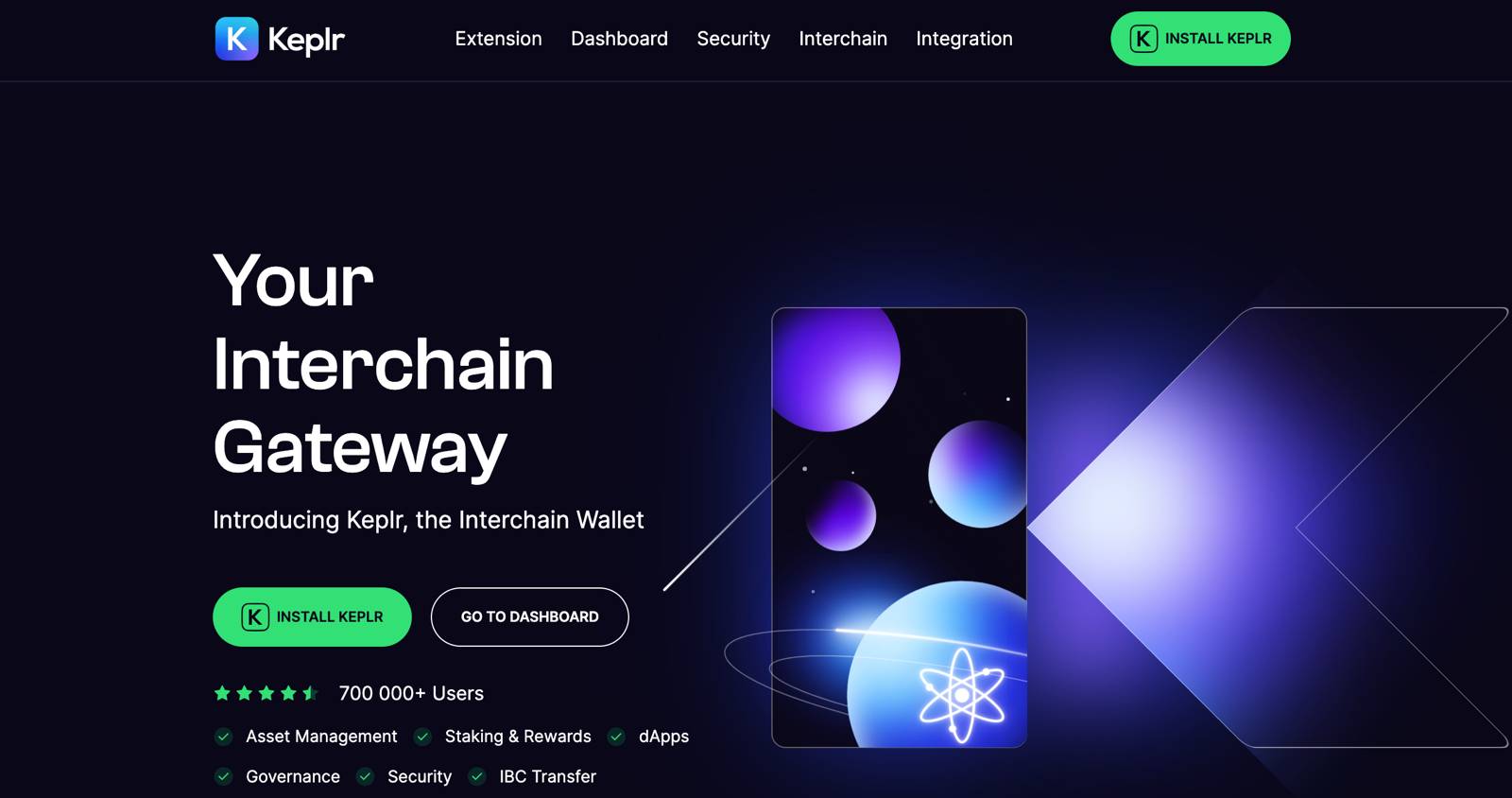 There are other wallets, but the original and most popular is Keplr. It does support Ledger, so if you're a safe user (recommended) , use the Ledger. You'll need to create a new seed phrase if this is your first time using Keplr, so just like Bob Wallet or Bitcoin or Ethereum (MetaMask), if you lose your keys, you lose your coin and NFTs. So be careful.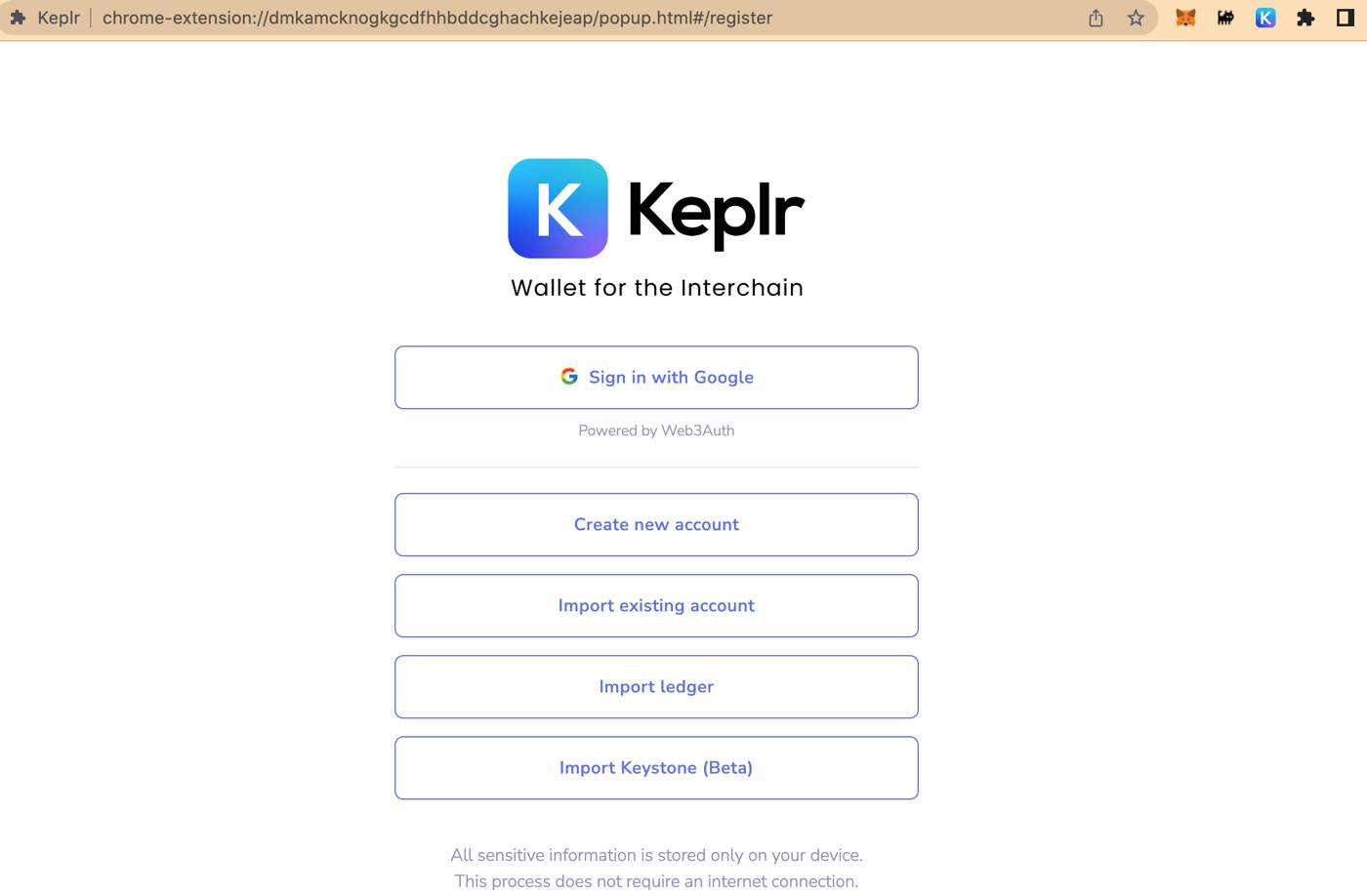 Step 3 - Get some $STARS Token
You can do this fairly easily quite a few ways - the most common is:
Buy $ATOM (the main token in the Cosmos ecosystem) at a centralized exchange such as Coinbase. Once you buy it on the centralized exchange, you can then withdraw it to your new Keplr wallet (see step 2).
After getting the ATOM, you can then swap it for $STARS in the Osmosis decentralized exchange at https://app.osmosis.zone
How many STARS? Of course depends on how many .stars domains and other NFT things you want to buy - a 5 letter + domain on Stargaze costs 100 Stars, and you can play in app.osmosis.zone to see how many ATOM that is at the time you are doing the exchange.
There are many more detailed guides on this, if you really want me to dive into this I can do so in a future video.
Step 4 - Buy a .stars domain as your Stargaze Username (and website!)
Now here comes the "connection" of Stargaze and Handshake - and one of the reasons the team here at SkyInclude wants to make the connection of communities - STARGAZE respects name collisions and has secured their .stars TLD domain on Handshake.
Plus, there are amazing developers like AngryMouse who is on both HNS and STARS who builds amazing things. So you can buy a .stars domain that WORKS like a Handshake domain.
I made a video about this on
https://skyinclude.com/arweave-nameserver/
But that was before the .stars domains were released, so here is a quick extra step.
Once you're past steps 1-3 and have around 101 STARS you should be able to buy your first .stars domain.
Buying a .Stars Name on Stargaze
---
Things You Can do with Stargaze Domain: Username and Website
The most common thing Stargaze users are using it for is to "Bind to that Wallet Address" and use as their wallet address and userID.
So you do that, after purchasing the name, click on your wallet on the top right. From there, you go to the "names" tab and edit the name you want to use as your wallet ID in the Stargaze ecosystem.
From here you have a few things - main is to associate the address with a Stargaze address. Most put "current wallet address" so that the items in your wallet and funds sent to that .stars username will go to this same wallet (Keplr / Cosmos) you are using.
You can also bind your NFT pfp image (if you've bought a Stargaze Profile Photo NFT), as well as various social media accounts to verify this Stargaze wallet is bound to these accounts. Just keep in mind you are linking your "web2" to your "web3" when you are doing this.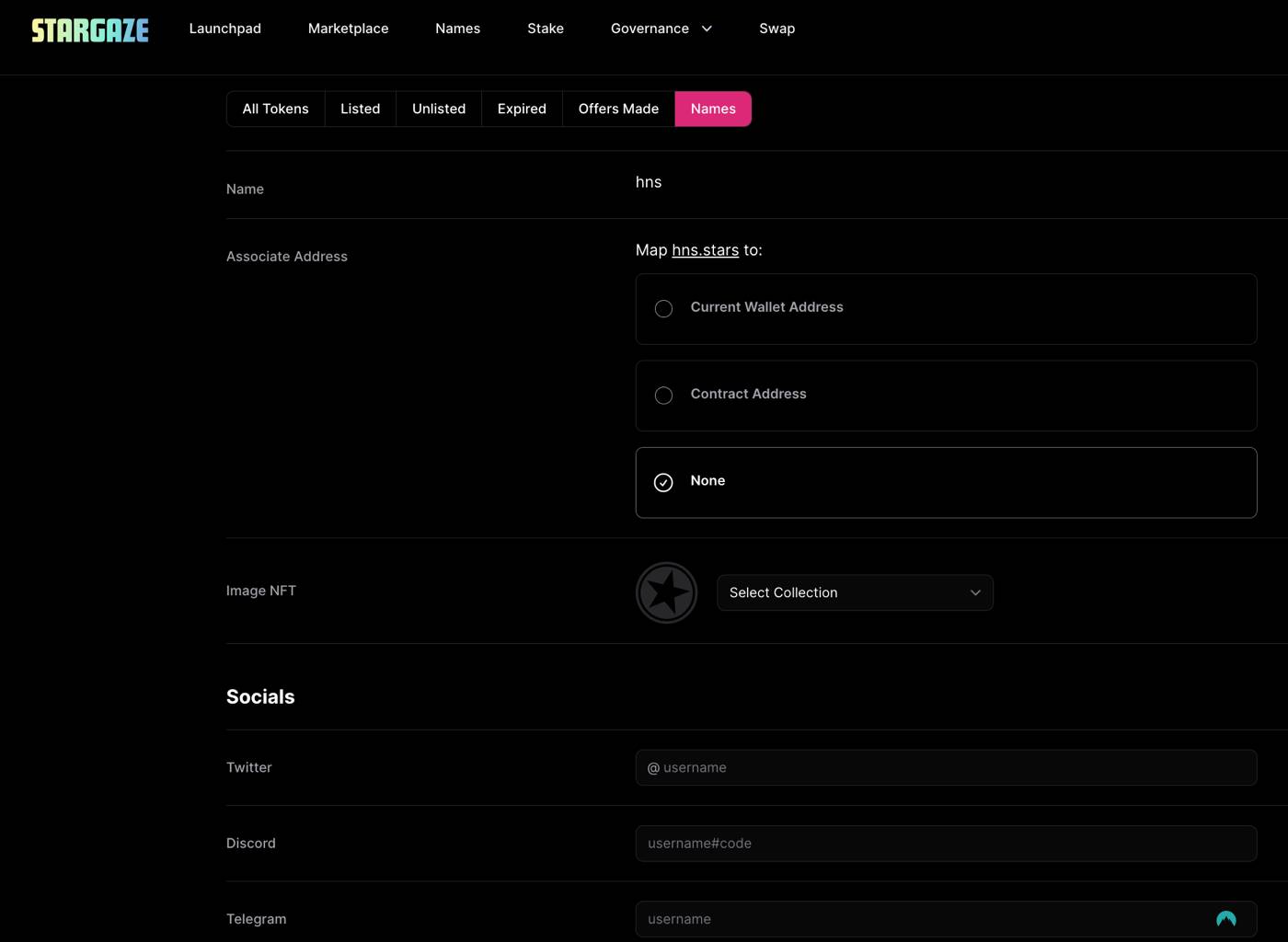 Set Handshake Servers! (make website!)
Now more connection of Handshake and Stargaze - in this same screen of setting your Stargaze wallet address and social media, you can set Handshake servers.
This is where you can refer to my previous guide about AngryMouses's Arweave nameserver he made - and then use those 2 name server fields to put here.
Then you have a Arweave hosted (decentralized) name server on a Handshake TLD (decentralized), on a Stargaze NFT / content creator / artist platform (decentralized) combo.

More You Can Do To Bridge Handshake + Stargaze + Communities (coming soon)
This is part 1 of a series we will do leading up to HandyCon 3, March 8 - 10, 2023. There are some artists and creators as we speak working on some gift and raffles to demonstrate real time what you can do to leverage the power of these 2 protocols.
Stay tuned, human!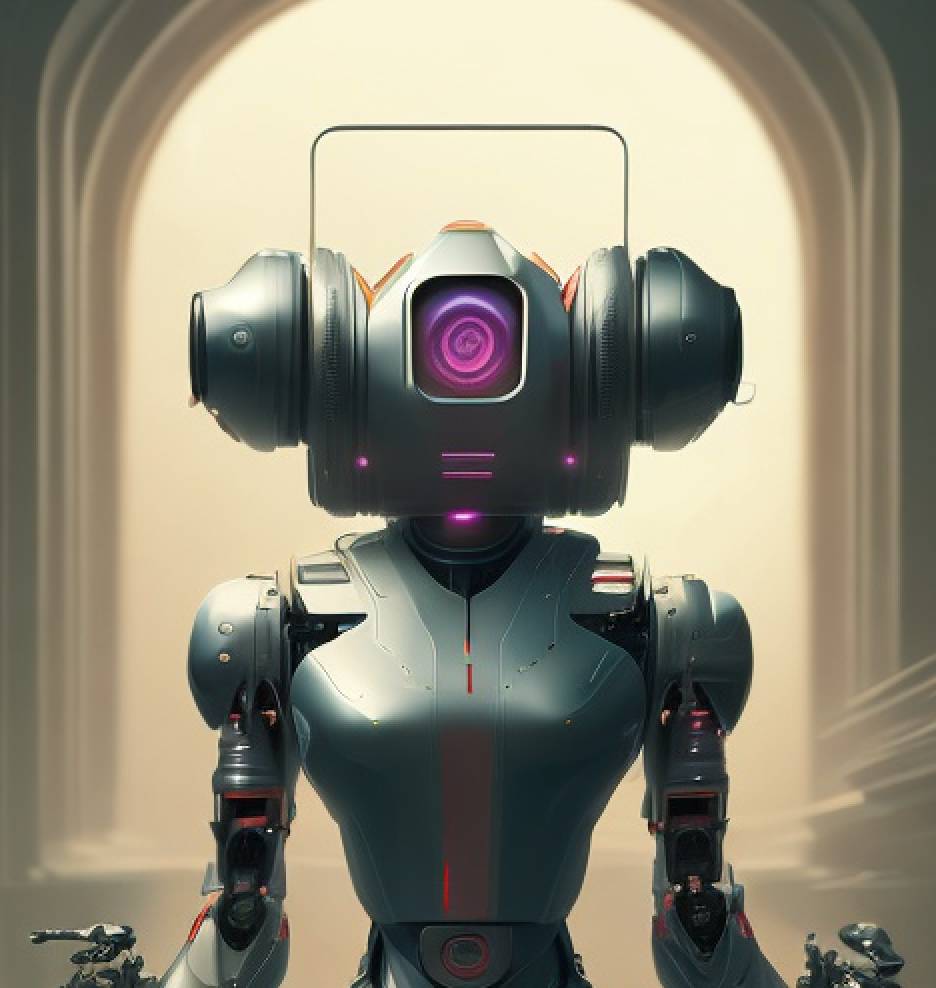 Some hints - connecting your own Handshake TLD sales of SLDs to connect and engage with that community.
Getting Started on Stargaze NFTs with Handshake Integration (Part 2)
Here's my anne.stars name in my Arweave Nameserver Portal. I added an A record that points to a small server in AWS with nginx installed. Upon adding the record, we should wait at least 20 mins to an hour for the changes to take effect. So if we browse http://anne.stars it should work (with HNS resolver enabled such as fingertip)
or the complete guide on Arweave nameserver that Angrymouse setup, check our dedicated guide at https://skyinclude.com/arweave-nameserver
Make sure you have a ARweave wallet setup
Then
Go to https://nameserver.arweave.dev/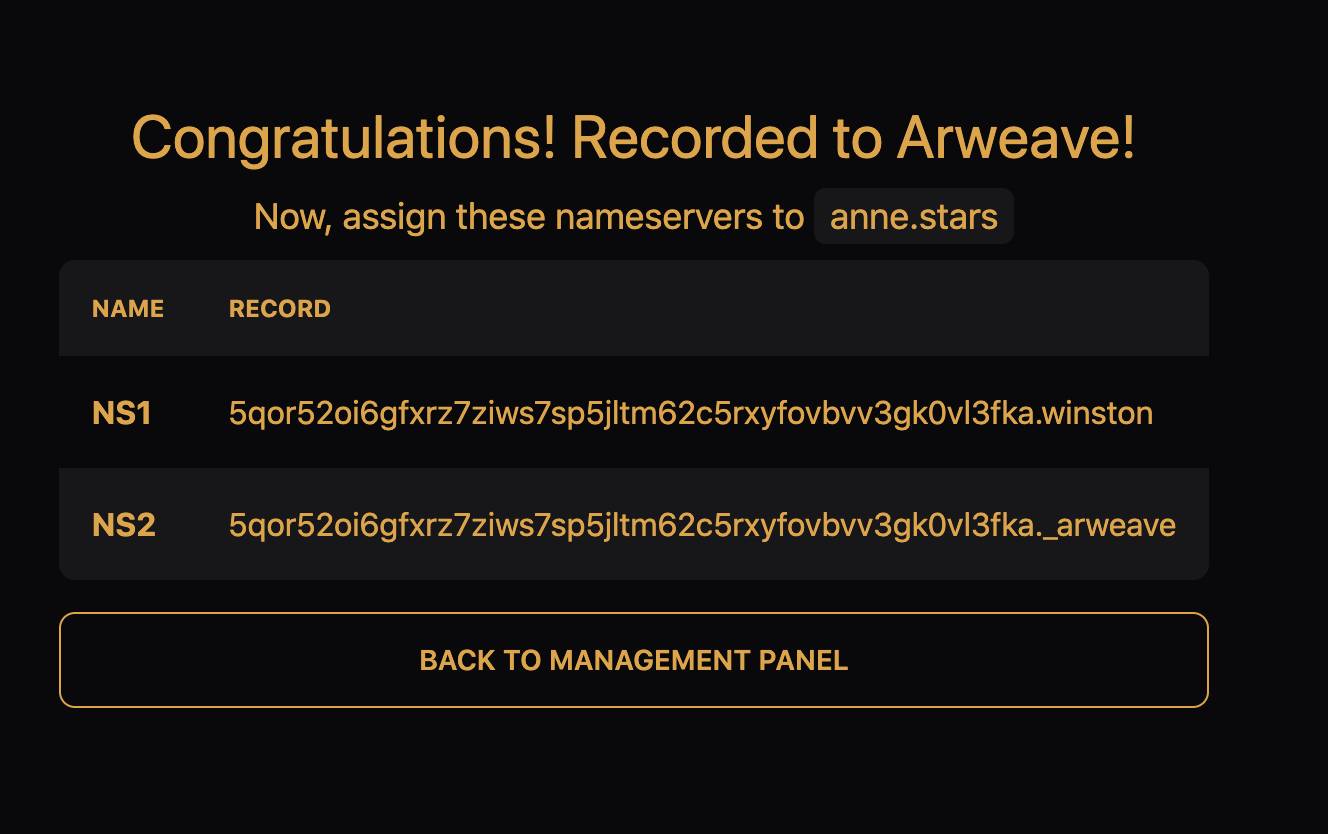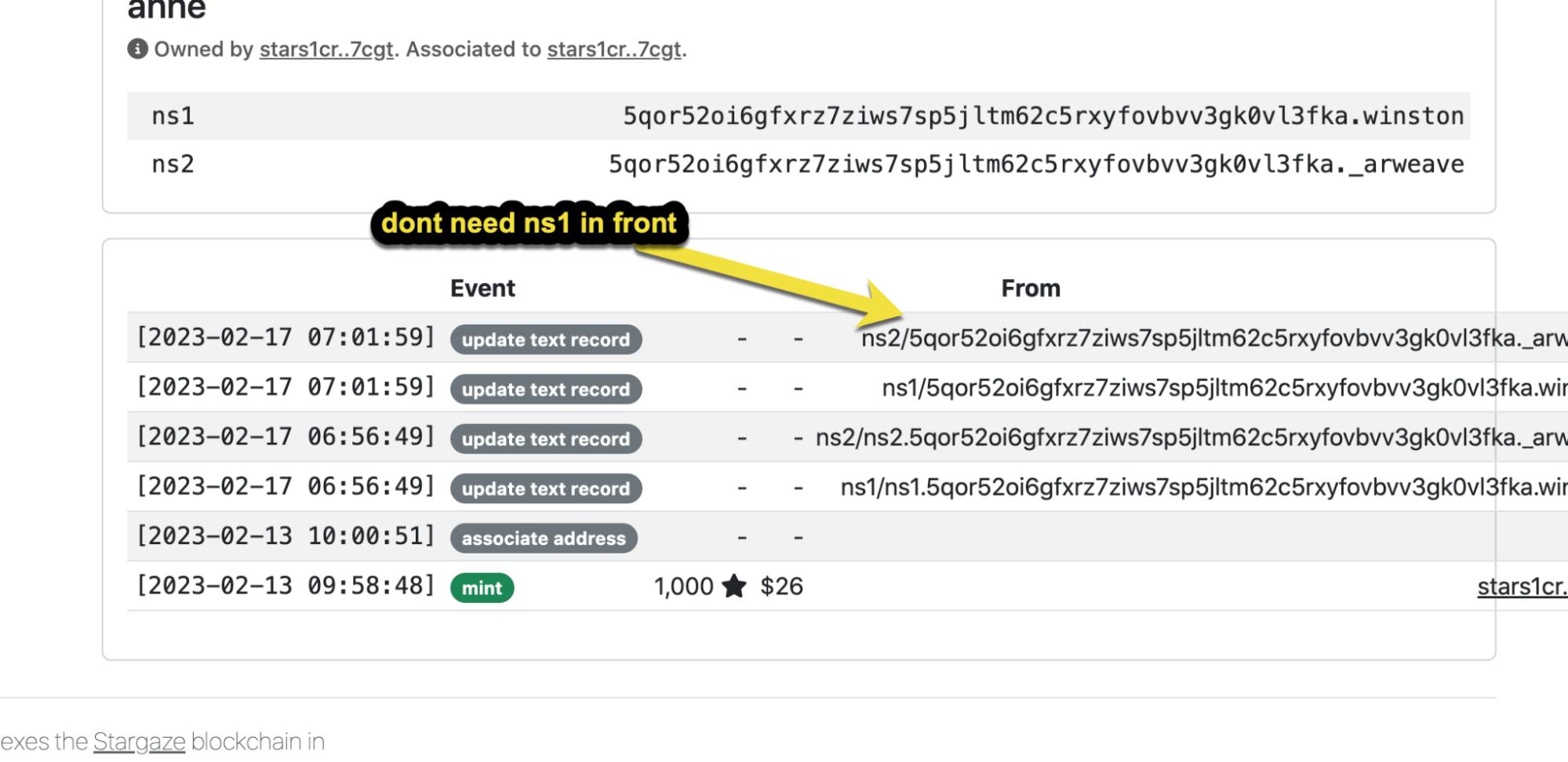 Put this into stargaze names
Don't need ns1 / ns2
5qor52oi6gfxrz7ziws7sp5jltm62c5rxyfovbvv3gk0vl3fka.winston
5qor52oi6gfxrz7ziws7sp5jltm62c5rxyfovbvv3gk0vl3fka._arweave
Wait 30 minutes