---
---
So it is the beginning of June 2022 and $hns Twitter is full of drama about registries and registrars on Handshake - so while I was planning to wait, I think it is worth getting this out there.
We at SkyInclude are working on a registar. Actually, since this site and Youtube channel was first established, to make a registrar was the idea (we even had some basic design layouts in October 2020).
Screenshot of a registrar.skyinclude "dream" page made in October 2020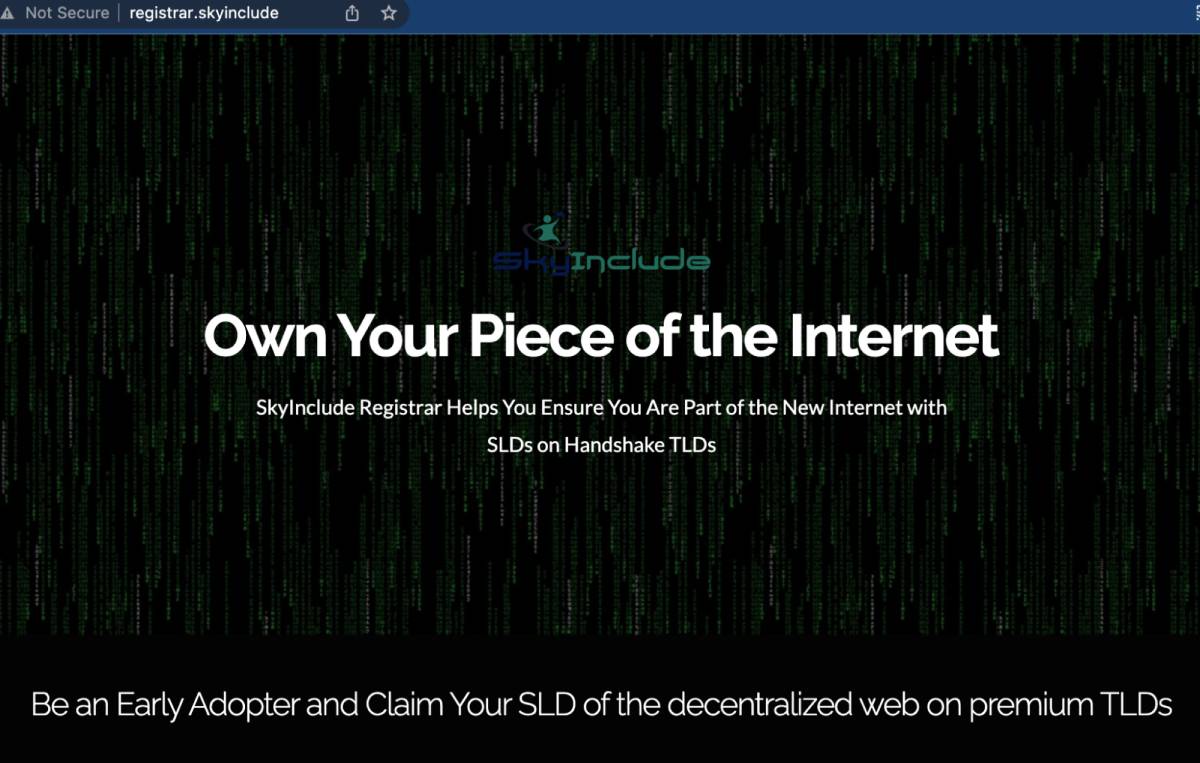 The reason for delays has been many reasons
Centralized or Decentralized? Honestly want to do decentralized domains, have tried to study XNHNS and even ported some over to eth and matic. Also studied .badass and .forever domains on eth. Found someone to help make a front end based off Eth, but the freelancer has disappeared. Finally, I am convinced that centralized to start, and then a way for the domain owner to convert to decentralized later is the way.
Stake/Root with the current players? Gateway.io was a pioneer and was tempted to stake. The company here did test one (.coffees) and has some sales, but wanted more flexibility and data.
Finally decided - Establish a Front End Registrar with a Community Member - Agaamin
So I have to say, HandyCon was amazing as usual. And Sajan's talk on Making a Registrar on Handshake we took a clip here and transcribed it.
Our team at SkyInclude and I were digging into all the notes from Sajan's talk at HandyCon - mainly he recommends 2 parts - PowerDNS to manage the TLD and SLD registrations, and WHMCS for the "front end" registrar where the registrant (domain buyer) logins, picks a domain name, and pays.
While we started digging in to it, I asked Sajan some questions and thanked him for his sharing at HandyCon. Then, we decided, why should SkyInclude re-invent the wheel and made an agreement with Sajan to leverage his team and experience to do it together and share the profits.
So Let Me Show You "Behind The Curtain"
In the spirit of SkyInclude being transparent and open, I thought - while the registrar system isn't fully ready yet -because of all this HNS twitter drama, and the chance to show people what other things can be done to spread Handshake usage, I am just going to show you openly our back end systems and as we develop it in a series called "Registar journey".
We are Using a Subdomain on SkyInclude
The way we are doing it is using a subdomain on SkyInclude - as this was truly the long term vision of SkyInclude - for over a year now we have had a "port service" where we have done a handful of hands-on development and migration of DNS sites to HNS. During that process, we can use this registrar back end to allow them to purchase items we have helped them with.
So we picked account.skyinclude.com
Soon, once we finish the UI design, we will simply integrate the homepage of the WWW site and then when someone searches for a domain or wants to login, they go to the account subdomain.
The SkyInclude Registrar Is Our Long Term Business Model (and You Can Win too!)
This is going to be the long term "business" of SkyInclude. To sustain what the company does and allow you, the listener, to support us by purchasing a domain (and get benefits).
We are not ready to integrate the account subdomain, but of course you can manually type it in and take a look. But keep an eye out for more.
Which TLDs? Mastermind, Mercenary, Conference, QC, 3PL, + Asian + ECOMM + Chinese + Philippines
So we are not currently making a system for the Handshake TLD community to submit their TLDs to us (stake/root/whatever), but there are some close people in our network we have whom trust us enough to work long term with, plus our own portfolio.
Here is a list of what to expect here:
.asap (as soon as possible)
.mastermind
.mercenary
.conference
.upsy (already has SLD)
.qc (quality control)
.3pl (third party logistics - shipping)
.4pl (another type of logistics)
.bpo (outsourcing companies - business process outsourcing)
.sourcing (for sourcing agents from factories)
.unboxing (for product reviews)
.missy
.evening
.projects
.moments
.quotations
.bartender
.lyy
.gfa (for our global from asia community)
.gfavip (for our paid gfa community members)
.excaliburbrothers (for our Amazon brand)
.indigitus (for the router)
.skyinclude (because we have some ideas planned, hint hint)
Many more in the works.
We also have quite a few premium Chinese and Filipino TLDs as well as emoji, but step by step.
What We Are Working on Next - SSL / TSLA records
So one bigger delay is - we want to allow those who register to be able to HOST WEBSITES on it. We will be making more and more tutorial videos, and even trying our best to support (again, customer support scaling we need to work on, email support for now, I'll try to reply personally for the time being).
But we are also registering our own SLDs on these TLDs (many of these have active sites with content) and we want SSL working.